Defining a vintage kitchen
Vintage kitchens have a particular charm. Unique and original spaces with a wow factor guaranteed to win over your visitors. Indeed, the vintage style tops the popularity stakes in the world of décor and interior design. When it comes to renovating their homes, more and more people are succumbing to the nostalgic and retro air that characterises this type of décor. A style that combines traditional designs, decorative pieces reminiscent of yesteryear with new elements, forming a delightfully eclectic mix. A decorative style that will bring your kitchen to life whilst adding a more organic touch. Read on to find out how to create your own vintage look.
Vintage ceramic tiles for kitchens:  what are they like?
Vintage style ceramic tiles retain the essence of artisanal craftmanship, but with all the benefits of cutting-edge production methods. Their principal characteristic is their aged appearance and the most popular are encaustic and flower patterned tiles. Particularly worthy of mention in this product type are black and white tiles, which add a subtle and elegant focal point to any room. One of the models by Pamesa that best represents these features is the At.Classic in a 45×45 cm format.
Other tones that are especially suited for this type of print include lead blue, terracotta and green.  Pamesa's Origin catalogue includes Decò, a collection of ceramic tiles in 22.3×22.3 cm format that features a range of shapes and patterns that bring the vintage style to life. However, apart from bolder tones, pastel colours also look great with this style, creating boho-vintage settings. An example is the Art collection in a 22.3×22.3 cm format.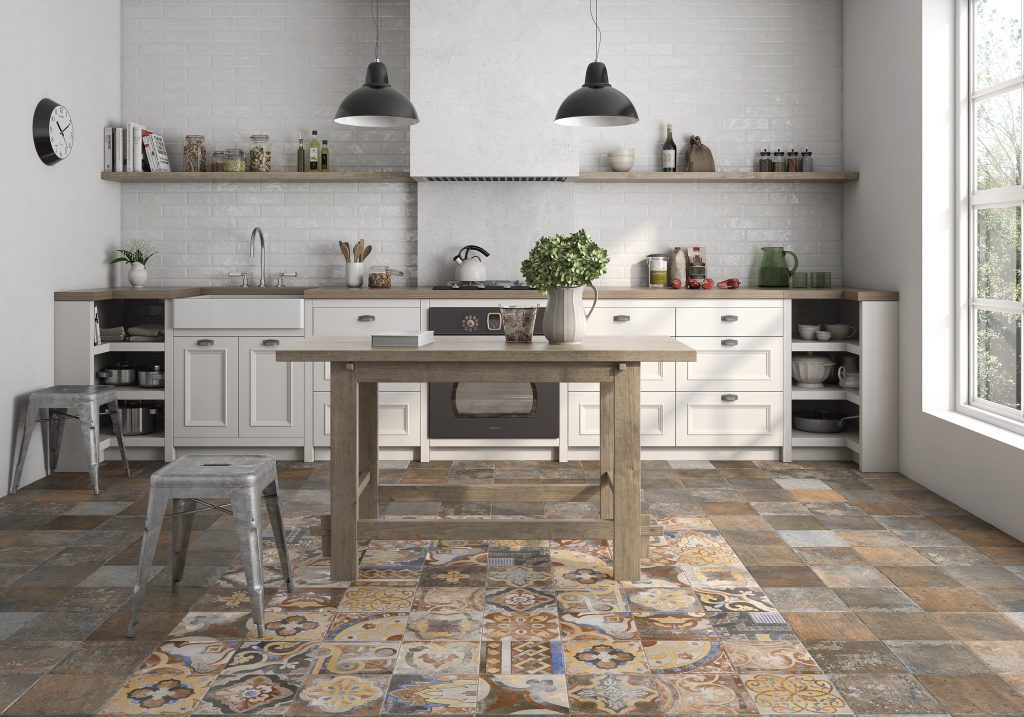 Metro-style ceramic tiles are another popular trend in this style: our  Subway 7.5×15, Mayfair 6.5×20  and Mayolica 7.5×30 series are just a few of the many examples you will find in our  Origin catalogue, which stand out for their timeless simplicity. A further advantage of these tiles is that they can be laid in different patterns: horizontal 1/3 brick, herringbone, horizontal ½ brick, block, etc. 
The best choices for vintage kitchen flooring  
Apart from the encaustic tiles discussed above, another option is to tile the floor of your vintage kitchen with wood-effect porcelain tiles. If you're unsure which to choose, check out this post for inspiration.  If you're looking for a bolder statement for your vintage kitchen, then a checkerboard pattern is a really original choice. Extremely popular back in the 1950s, it not only has an eye-catching black and white design, but can also be used in alternative ways. The matt finish makes encaustic tiles a cosier option for interiors, and they are also great for tiling the splashback and mixing and matching with the other two ideas: wood-effects and checkerboard patterns.   
The colours behind the vintage look
When combined with black and white, pastel tones, mainly pink, blue and green will give your kitchen the retro-vintage air you are looking for. Remember that your kitchen has to blend in with the rest of your home, so the colours should match the essence of the other rooms. You can highlight one of the colours in your range, such as blue, by drawing attention to it with small details or featuring it on furniture, chairs or electrical appliances. It's all about being bold, combining trial and error with innovative ideas. 
Vintage décors for your kitchen
One of the best parts of any renovation project is the décor: thinking about every detail, print and texture always makes for a fascinating and fun experience. An absolute must for your new kitchen are wooden shelves: after all, one of the characteristics of vintage kitchens is that everything is on show: the pasta and cookie jars, tea cups, etc – all decorating the fabulous shelves. Other must-haves include a display of copper pans, cast-iron frying pans or porcelain plates: it's well worth investing in a dinner service in a gorgeous colour that will become a definite talking point.
Essential decorative items include prints with illustrations of food or foodies phrases, and plants, greenery and flowers…your kitchen needs a refreshing touch, as if it were in a country house.
As for the lighting, chandeliers and metal or wrought iron lamps are the best option, especially round or tear-shaped styles, perfect for an authentic vintage look.