Interior design tips for creating an elegant bathroom
When imagining luxury bathrooms, our thoughts turn to shiny spaces decorated with marble, touches of gold, mouldings and ornaments that tend to create an excessively ornate effect. However, contemporary luxury in bathrooms is more about minimalist lines, modern furniture, marble and wood combinations, metallic tones and pastel shades…that come together in a quintessential expression of elegance.
This post includes several ideas for bathroom tiles that will create a truly luxurious bathroom. Read on to find out more.  
Choosing the right bathroom ceramic tiles for a luxury finish
Metal-effect ceramic tiles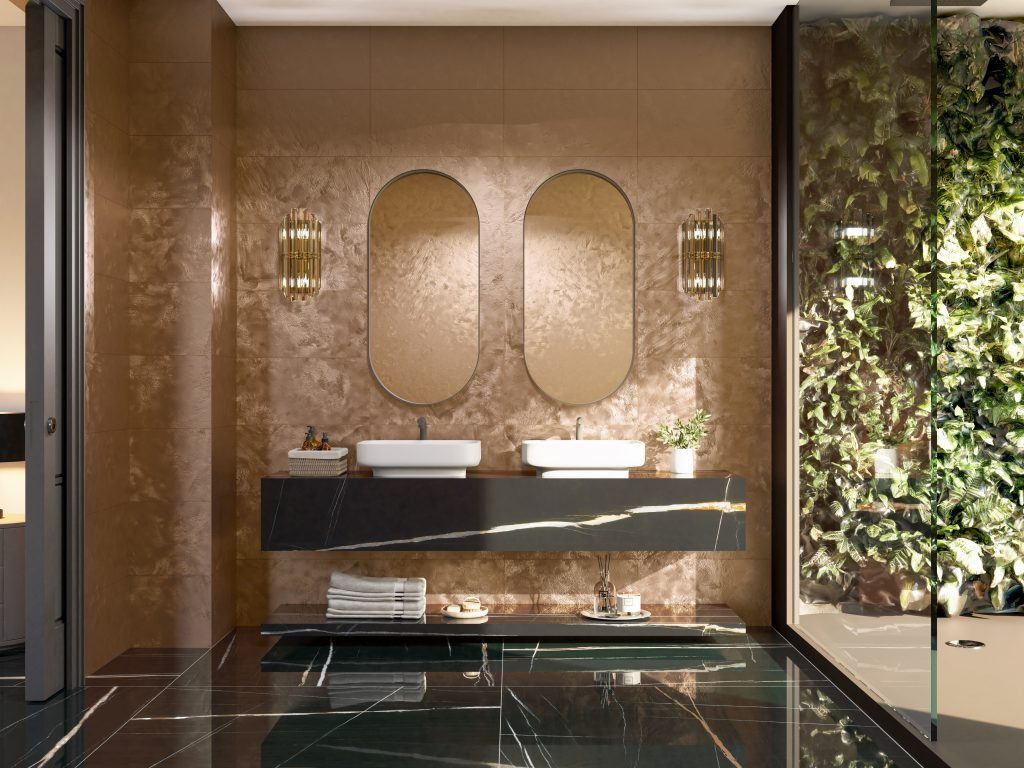 One of the most popular trends in interior design over the last few years are metal-effect tiles. They have a twofold function, protecting and decorating, always with truly spectacular results wherever they are featured.  Tiles combining various textures, glossy and matt mixes such as the  Golden Cromat model add major value to products. What's more, these metal-effects also offer all the resistance and robustness associated with ceramic tiles. The gloss effects remain unchanged despite the passing of time and they are resistant to chemical agents, making cleaning simple. 
Marble-effect ceramic tiles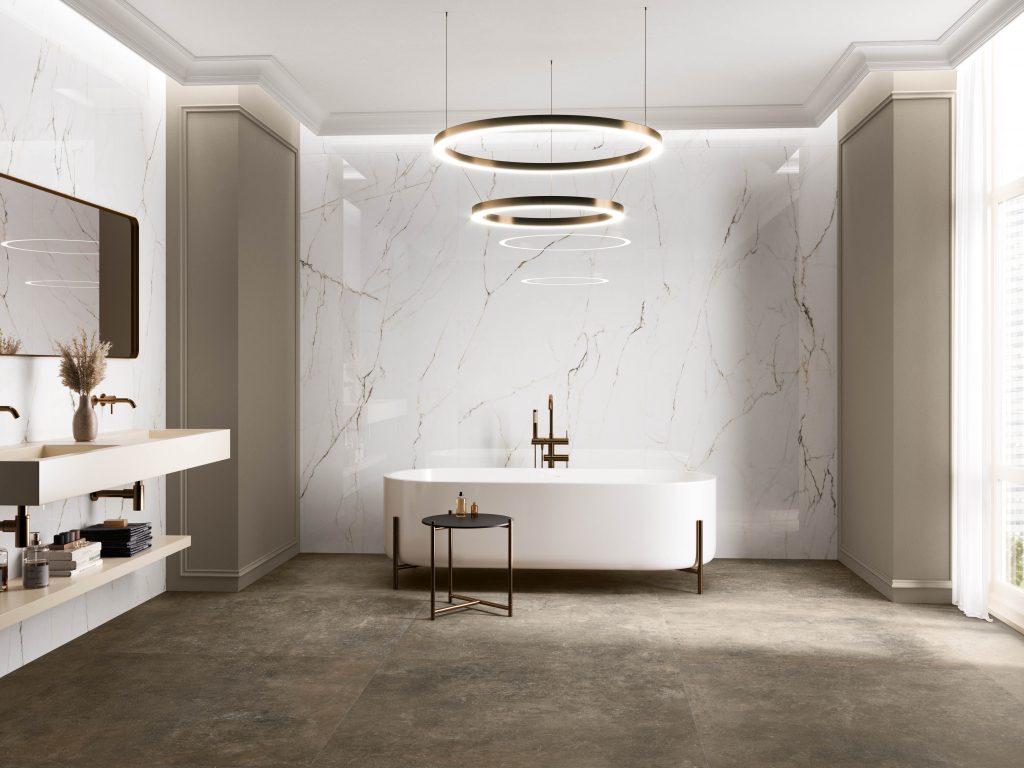 Marble is the first thing that comes to mind when thinking of luxury and sophistication. Marble-effect tiles are incredibly versatile: classic and timeless, their elegance and exclusivity have rightly earned them a privileged position in the history of interior design.   Creating a luxury – but not overly ornate –  bathroom requires combining this material with others that offset its exuberance, such as matt or brush finished metals, neutral tones and simple, plain decorative elements. One of our latest incorporations is the   Utopia model, available in a large 120×280 cm format, ideal for covering the shower wall with a single slab, and  120×120 and 60×120 formats for inclusion in the rest of the space.  
Wood-effect ceramic tiles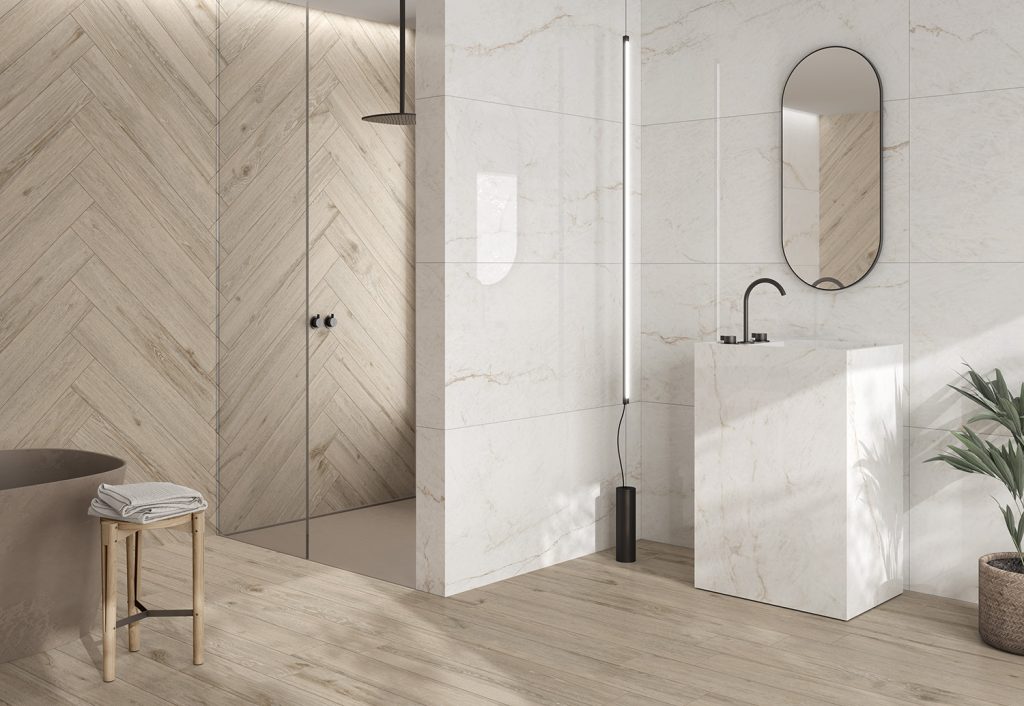 Wood-effect ceramic tiles are a very popular trend for creating luxury bathrooms. When combined with marble-effect tiles, they are the perfect choice for adding a sense of warmth to your home.  Walnut is one of our new models –  a porcelain tile available in a range of  four highly refined and elegant colours. What's more, this is a slim 6 mm thick tile that comes in a large 20×120 cm format, making it ideal for floor and wall coverings in shower or bath tub surrounds. If you're looking for inspiration for wood-effect ceramic tiles, check out this post.
Add an extra touch of luxury with accessories  
Whether it's the kitchen, bedroom or bathroom, accessories add the perfect finishing touch to any room. They are elements that make all the difference. And when it comes to bathrooms, there are two key items in play: the bath tub and taps.
Free-standing bath tubs are a symbol of luxury and pleasure. They are larger than built-in models because they are higher, but they look great and transmit a sense of peace and calm. They require a considerable amount of space around them and if you position them in front of a window with a view, the effect is simply sublime.
Shiny metallic taps and shower screens, mainly in yellow or rose gold tones. Two finishes that will add a touch of sophistication to your new bathroom.