Glamour, personality, spaciousness, naturalness… The reasons to include a glossy white coating in our kitchen can be quite diverse. When it comes to kitchen tile trends, the white colour has been positioned as one of the preferred options in homes. If we add the ability of porcelain materials to generate glossy and polished finishes, the result is a perfect combination that will delight all those looking to bring their own timeless atmosphere to their kitchens. From the classic Alaska to the bohemian Mayolica Rust, there are plenty of options that will fit your lifestyle.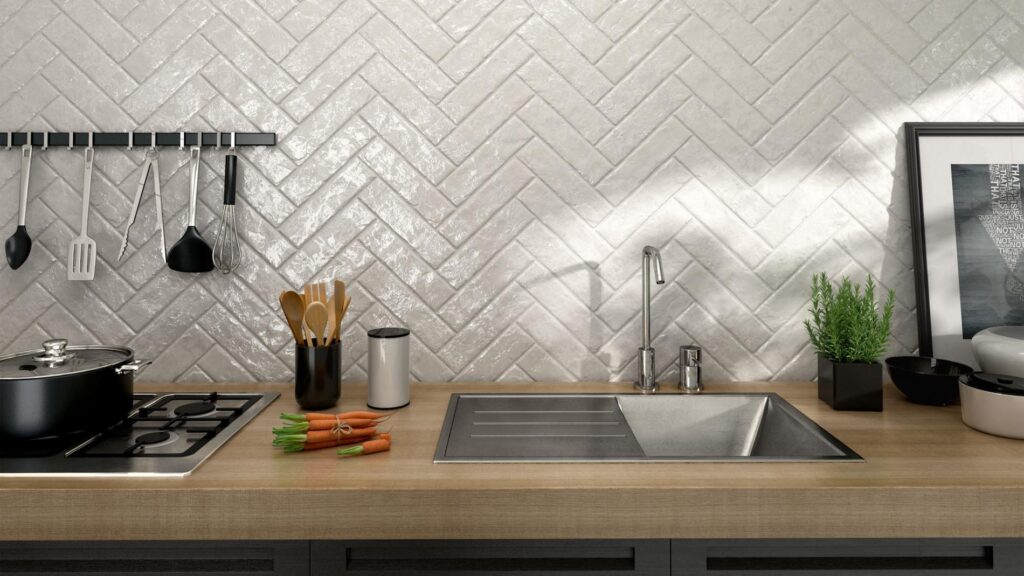 It's common to have certain doubts when deciding on a material with a white glossy finish. At Pamesa, we've taken note of this, and we want to share all the advice and secrets surrounding this type of product with you. This way, you can take the design of your ideal kitchen to the next level. Join us to discover them.
What tiles to choose for the kitchen?
The versatility and popularity of white glossy materials have led to a wide range of models available in the market. So, how can we determine which product suits our kitchen best?
One key factor in making the right material choice is to pay attention to the room's layout that you intend to cover. If you have limited space, you can consider red body and white body tiles, for example, the Tripoli item would be an excellent option. Its variety of formats, shapes, decorations, and reliefs will allow you to complement that white glossy effect with a decorative wall that separates the work area, stylishly and with lots of personality, dividing the different areas in the room.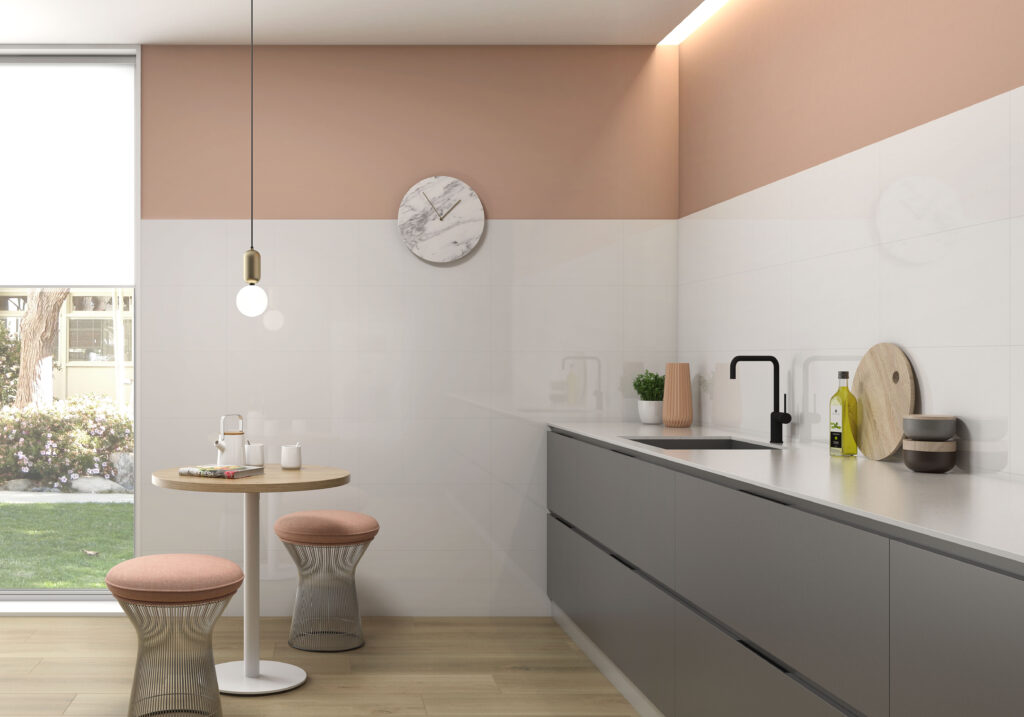 On the other hand, if you have a large area to cover, the choice is clear: porcelain is your best option. The availability of large formats and their versatility allow us to cover larger spaces while minimizing or reducing the joints between the material, providing a level of sophistication and continuity that it is impossible to find in other materials. Additionally, its exceptional technical characteristics, with a low absorption rate, make this material perfect for use in wet areas.
Which is easier to clean, matt or glossy?
This is one of the most debated topics when we are unsure whether to install glossy or matt white wall tiles: Which one is easier to clean? Is a glossy finish really practical in a kitchen?
These are questions of great interest because the time and effort spent on household chores can be a determining factor when choosing materials that will become part of our daily lives. Tiles with a white glossy finish have a significant advantage: their smooth surface makes them easier to clean, allowing you to quickly and easily remove all dirt. Just wiping with a damp cloth will restore the tile shine. This feature is very useful due to the nature of a space like the kitchen, which requires regular care after each use. For this reason, choosing a material with such simple maintenance as white glossy wall tiles will help us save time when it comes to cleaning products.
Advantages of white glossy white tiles for kitchens
At this point, we should be aware that white glossy tiles are a great choice for our kitchen. Here's a recap of all the advantages that this product would bring in our space:
Wide variety of shapes and formats: Squares, rectangles, hexagons, irregular shapes.
Brightness: Regardless of the type of lighting in our space, white glossy tiles will enhance it.
Easy cleaning: A single wipe is enough to leave the surface looking like new, saving you time and effort.
Character and personality: A white glossy tile doesn't have to be boring; take advantage of the reliefs, decorations, and patterns to cover a decorative wall away from the workspace and include a breakfast bar or dining area that complements your lifestyle.
Mix and match as you like: The neutrality of glossy white is perfect to combine with any style or colour you choose; don't be afraid to experiment.
Sense of space: Glossy white is an exceptional option when you want to create a sense of spaciousness in a room.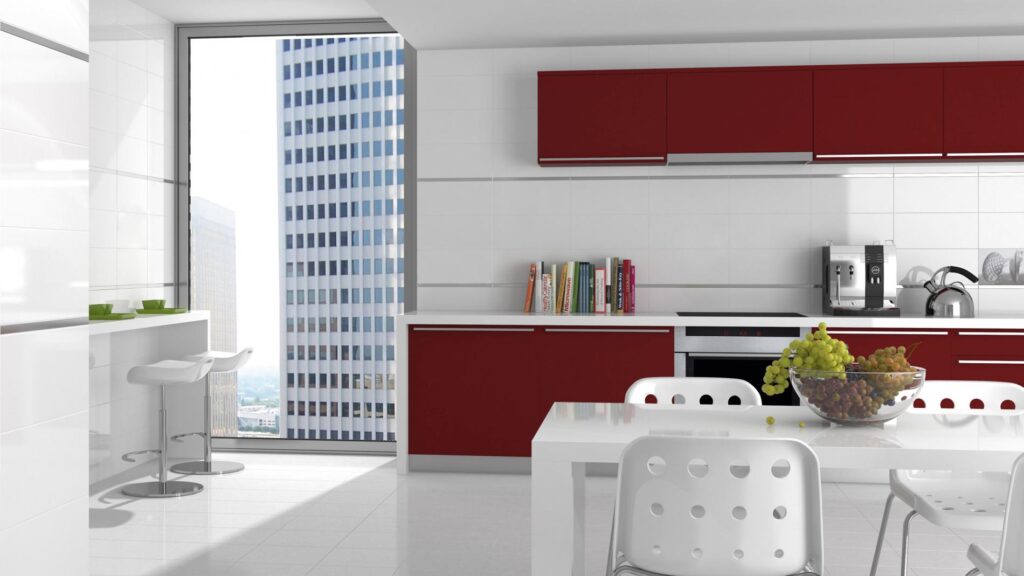 How to combine glossy tiles with kitchen furniture?
Now that we've decided on glossy white tiles as a fantastic option for our kitchen, a big question arises: 'How can I combine them with the kitchen furniture?' The answer is quite simple: unleash your creativity.
One of the best features of white glossy tiles is the flexibility they offer when it comes to integration in different spaces: industrial, modern, rustic, classic… The limits are where we decide them to be. Whether we choose natural materials, metallics, or vibrant colours, glossy white complements the design naturally.
A great tip is to combine white glossy tiles with furniture in matt finish. Kitchen furniture often has a lot of contact with hands, pets, and other elements, so it's normal for fingerprints and dirt to stand out more on glossy surfaces, making it challenging to keep the kitchen spotless. If we choose kitchen furniture in matt finish, we can mitigate a large part of this issue. Furthermore, as a general rule, glossy-finish furniture is more prone to premature wear and tear: scratches and chipping can easily appear when we come into contact with their surfaces, especially on edges and corners. Delegating white glossy to tiles can be a great solution to extend the lifespan of our kitchen without giving up on incorporating this fantastic finish in our space.