When refurbishments are being made to old apartments or to your current home, it is very common for some rooms to have different floor coverings. Dealing with transitions between one type of flooring and another, particularly in bathrooms and kitchens, is part of interior designers' everyday work. The same home might contain flooring ranging from traditional terrazzo floor tiles to floating wood floors, all in the same few square metres. What do you do when you want to unite different areas? How can these different types of flooring be integrated without it looking strange? Highlighting different areas of the floor is one way of marking them out visually. We offer a few tips on how to do this. Carry on reading!
First, we'll look at how it can be done, and then where to do it.
What are the best ways of creating a transition from one floor area to another?
On many occasions, we try to conceal transitions between different types of flooring, either because different materials have been used in a room, needing a metal profile to separate them, or because repairs must be made to a particular area and so some of the flooring will need to be replaced. There are various ways of going about this:
Contrasting the way that the tiles are laid. If you are going to lay wood-effect porcelain tiles, a contrast can be created with the direction and straight lines of the main section of floor by laying the tiles in the new area in a herringbone pattern or perpendicular to the rest of the floor. This will give it a highly original appearance and it will seem to have been done on purpose for decorative reasons!
Using tiles with another design. With this solution, a dash of colour or a decorative touch can be ensured; for instance, by using encaustic-effect or small-format tiles like those of our Origin collection.
The most common applications
One of the most popular transitions is to create a ceramic rug. This consists of combining two types of very different flooring, such as marble and wood-effect tiles or encaustic and cement-effect ones. Ceramic rugs can be used to mark out certain areas, transforming them into focal points.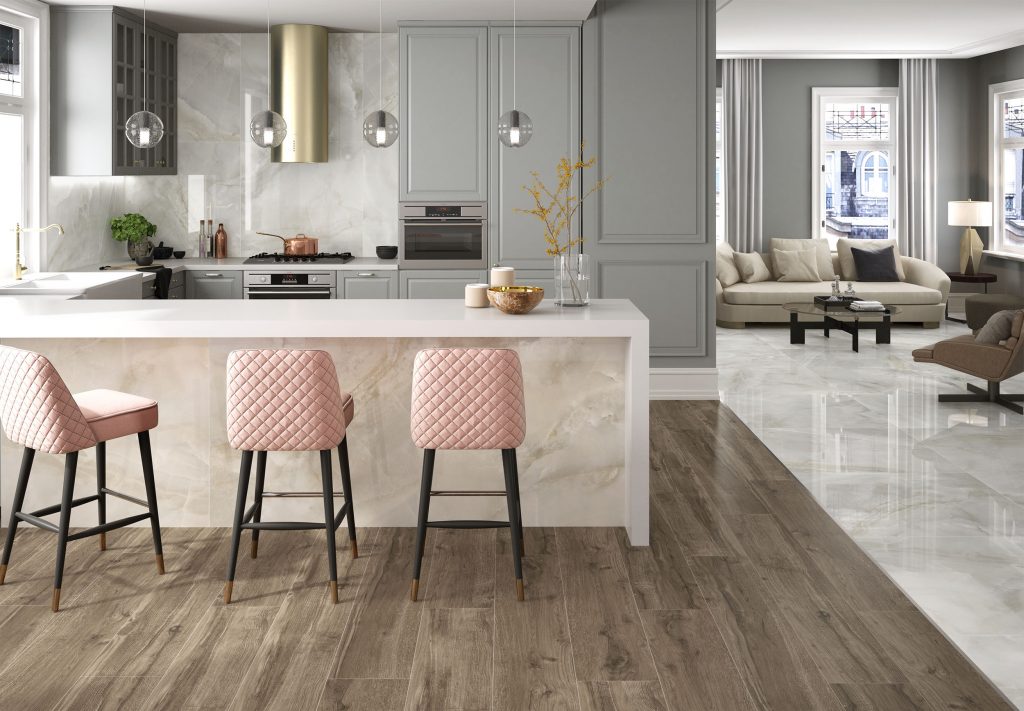 Two decorative ceramic rugs in the same living space. One of the advantages of ceramic tiles is the fact that virtually all the models have the same thickness or a very similar one. This means that different tile models can be combined with no need for separators or profiles. As a result, one of the most attractive options is to use two decorative ceramic rugs in the same living space, lending it an upbeat vibrant feel. In this case, encaustic-effect tiles tend to be used.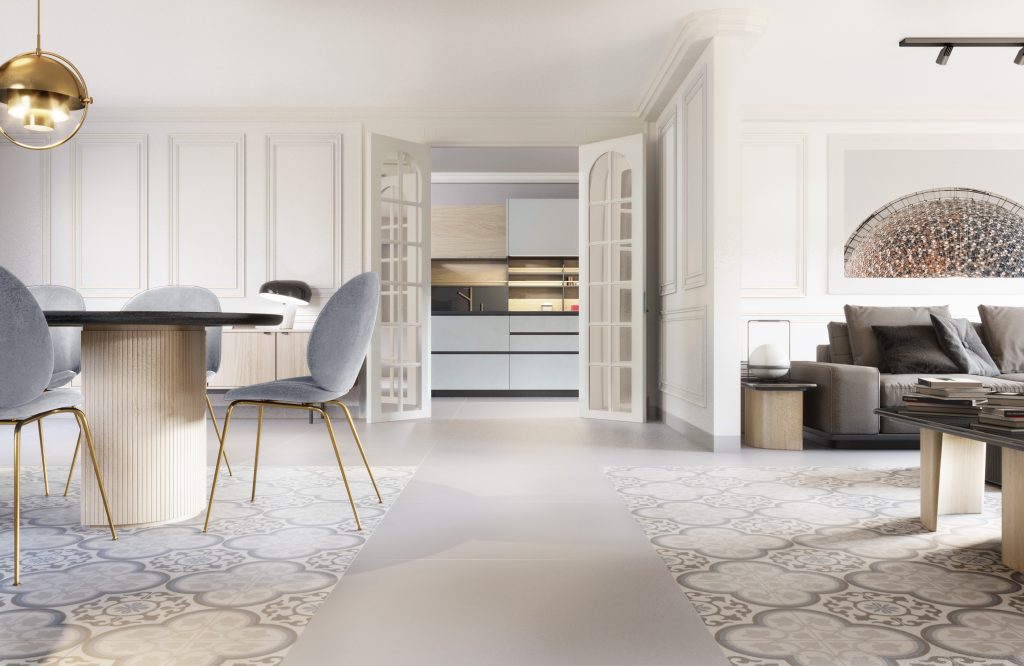 Marking out areas according to their use. This strategy is generally used in kitchens. A section of floor along the base of the kitchen units is marked out with a particular type of flooring to define the work area.  Highly attractive results can be achieved if the material used on the floor is also used for the splashback.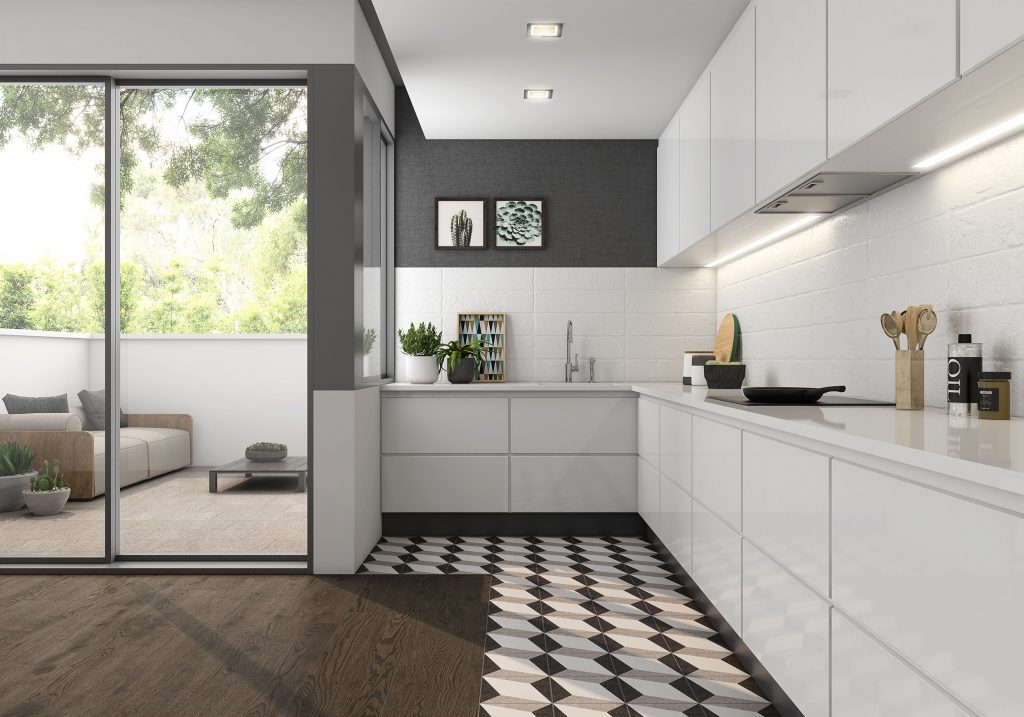 Organic-looking transitions. Hexagonal tiles, for instance, are reminiscent of a honeycomb. By combining different hexagonal floor tiles, straight-lined transitions can be replaced with more natural looking ones.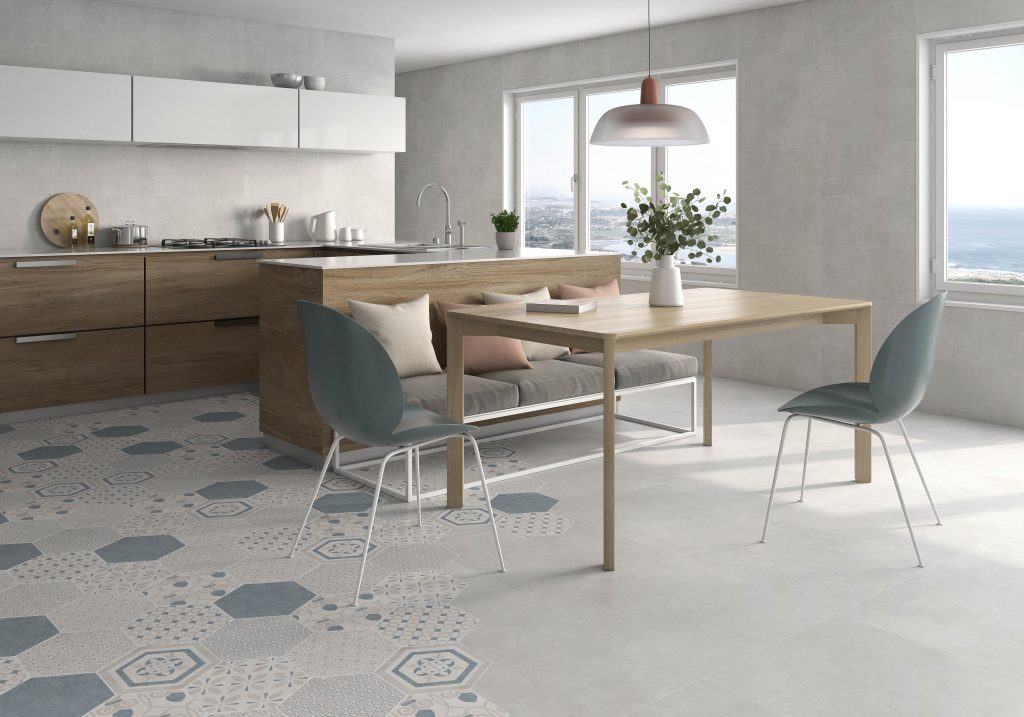 What is most important of all?
We've spoken about the visual effects that can be achieved with these transitions, but what is most important is to play around with textures, colours, shapes and materials. Combine different effects and create contrasts–for instance, use plain colours with patterns, and glossy finishes with matt ones. These choices are what will lend your home a truly special touch, infusing it with dynamism and personality.  Try it out!