For more than twenty years, the Pantone Colour of the Year has influenced product development and purchasing decisions in a wide range of sectors such as fashion, interior decoration and industrial design, not to mention product packaging and graphic design.
Illuminating and Ultimate Grey; these are the two colours that Pantone has chosen as the star shades of 2021. Following on from Classic Blue, a shade that exuded a sense of calm in such an uneasy year as 2020, the company has chosen two colours with which it hopes to send a positive message after a year that was characterized by the Covid-19 crisis.
"This colour combination gives us resilience and hope"
"This is a colour combination that gives us resilience and hope. We need to feel encouraged and uplifted, this is essential to the human spirit," said Leatrice Eiseman, Executive Director of the Pantone Color Institute.
In a press release, the company described the yellow of Illuminating (Pantone 13-0647) as a warm, bright and cheerful, sparkling with vivacity; while Ultimate Grey (Pantone 17-5104) is a symbol of solid and dependable elements, the colour of  rocks and pebbles on the beach. "We need to feel encouraged and uplifted; this is essential to the human spirit", noted Eiseman.
"…essential to the human spirit"
How should you introduce these shades to your interiors?
At any time of year, and in any room, whether it gets plenty of light or not, this colour can be combined in every space you want to add a personal touch of radiance and joy.
In bedrooms you need to create a cosy, comfortable atmosphere. Even though this room is designed for sleeping and relaxing in, you can add little accents of yellow in the form of bed linen, armchairs or cushions to give this space a very special touch.
Yellow tiles bring vibrant energy to the walls of kitchens and bathrooms. This colour, as you can see here, can be turned into a refined feature when combined with other colours or materials such as stone- or cement-effect tiles that echo the other new Pantone shade, Ultimate Grey. Being a warm tone, yellow is perfect for use in kitchens, either with a matte finish as in our series: Kx. Technic Greco in a 20 x 20 format, or in the form of hexagonal tiles measuring 19.8 x 22.8 from the Mayfair series.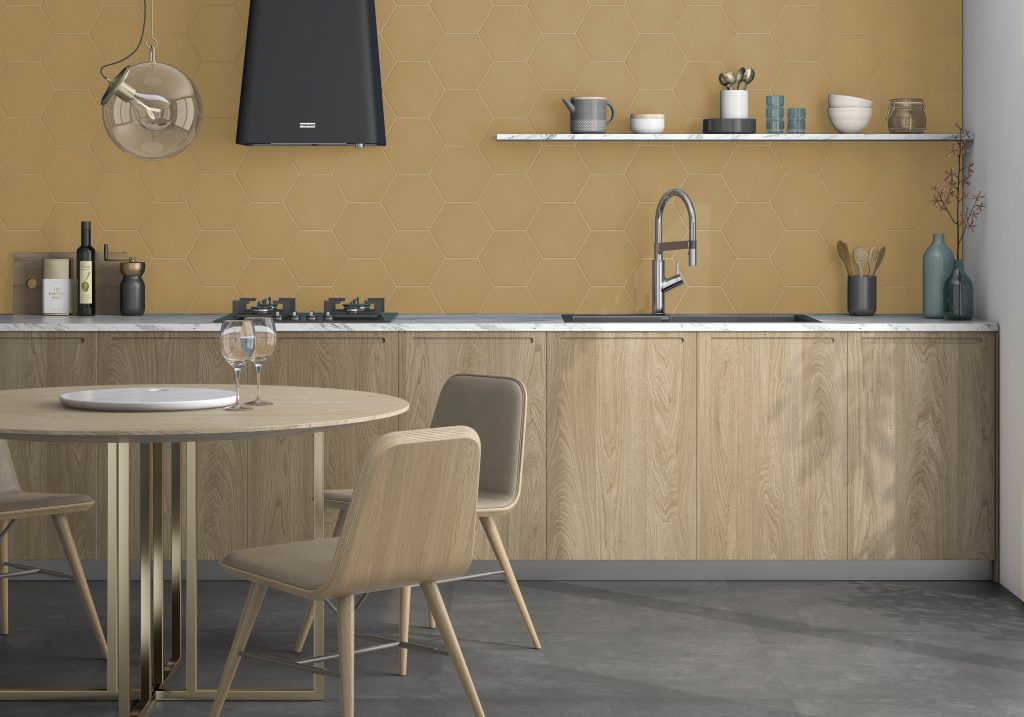 If you want to bring extra vitality and freshness to the bathroom, you can add this shade in a gloss finish with Kx. Lumen Amarillo 20 x 20 or Mayfair Ocre 6.5 x 20, which, as we saw in the previous post, offers endless layout pattern options.