Using colour to freshen up your bathroom or for a complete make-over is the ideal solution if you are looking for harmony and freshness for your home. On the way into summer, we bring you a combination of products, colours and shapes where mauve is the centre of attention. Four ceramic solutions from Pamesa that give a breath of fresh air and life to your home's most personal spaces.
El color blanco es el gran aliado del malva, combinación utilizada en el ambiente superior, en el que la base y los detalles decorativos recurren a este dicromatismo equilibrado. Un baño revestido con piezas de Stabia Blanco and Stabia Malva pieces in 20 x 45.2 centimetres, harmonised with Misony Blanco decorative pieces. Crea Blanco floor tiles (31.6 x 31.6 centimetres) give a sense of continuity, spaciousness and subtlety.
The stunning colour of Stabia Malva radiates freshness and personality in this space combined with white and Lustre decorative pieces in these two colours in 20 x 45.2 centimetres. The Crea Malva floor tiles (31.6 x 31.6 centimetres) bring a sophisticated and enveloping air into this bathroom.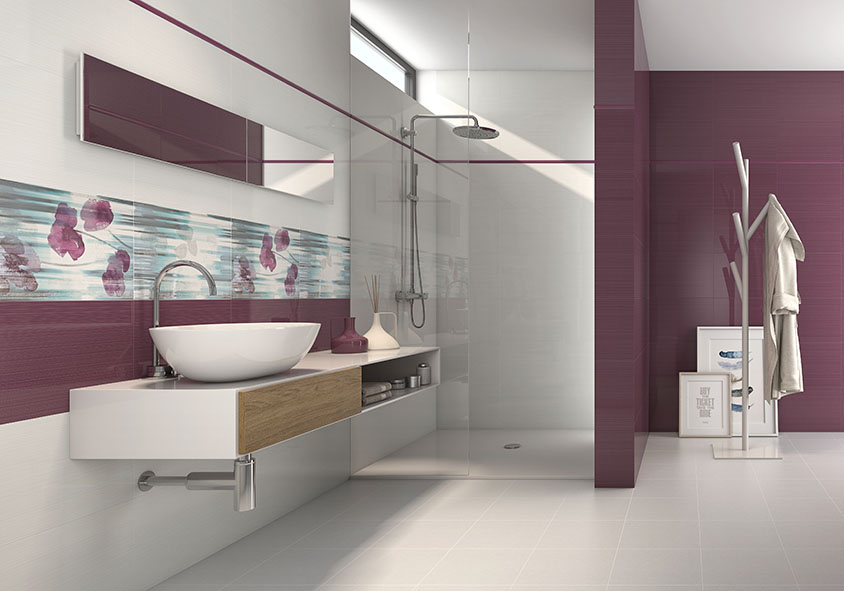 Used in the right way, the pieces in white and mauve from the Lux series (31.6 x 45.2 centimetres) add a cheerful touch to this bathroom. The floral decorations Flor Eros Malva and Líneas Eros Malva give a fresh and energetic effect, adding a unique feel with colours and shapes in this environment floored with Crea Blanco (31.6×31.6 centimetres).
The Fogli Malva decorative pieces, in 20×60 centimetres, bring the strength and exquisiteness of flowers while adding functionality and design. Floor tiles are interwoven with white and mauve pieces from the Mood series to give the perfect contrast. The white of the Crea series (31.6×31.6 centimetres) is used for the floor, creating an atmosphere of well-being.
This colour combination, white and mauve, is ideal for bathrooms created with Pamesa's ceramic solutions.