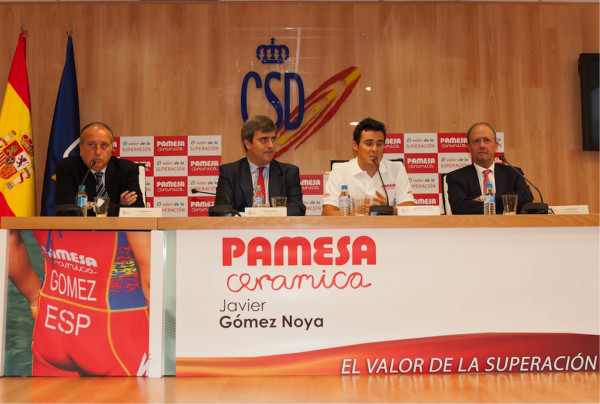 Today, at the Sports Council of Madrid (CSD), the Pamesa Industrial Group and current world triathlon champion Javier Gómez Noya have signed a sponsorship deal for the next two and a half years. Pamesa is now the sponsor of the present world triathlon champion and Olympic silver medallist, Javier Gómez Noya.
At the signing of the deal were Fernando Roig, the Pamesa Industrial Group CEO; Jorge Bauset, the Group's general director; triathlon champion Javier Gómez Noya, and CSD president, Miguel Cardenal.
The agreement will initially run until 2016, the year of the next Olympic Games. Javier has already competed in the last two World Series events wearing the Pamesa Group logo, a World Series in which he holds a comfortable lead after winning four of the six races in New Zealand, South Africa, Japan and the United States, and with just two more to go.
Fernando Roig, who throughout his career has always demonstrated his support for football (Villarreal CF) and basketball (Pamesa Valencia), stated that "our goal in Pamesa has always been to give back to society what it has given us and one of the best ways to do this is by backing sport whether at professional, amateur or grassroots level. In the case of Gómez Noya, with our financial support we want him to be able to train in the best places and with the best partners so he can give his maximum performance in the competition. The target is to win the gold at Rio in 2016, and for that to happen no effort can be spared".
Jorge Bauset noted that, "Pamesa is a brand with a presence in many countries, and even has its own factory in Brazil, host of the next Olympic Games. Javier's sporting successwill showcase our brand across the world,so we consider this initiative to be an outstanding advertising channel. I know triathlon is witnessing an upsurge all over the world; and what's more, I'm aware that many of our employees have taken up the sport and since we announced this sponsorship, they are hoping that Javier will visit our facilities so they can meet him in person".
For Miguel Cardenal, "this is a very important agreement and I am proud to have helped bring the two parties together. Javier is undoubtedly among the top ten names in Spanish sport that people outside Spain will recognise, alongside Nadal, Alonso, Gasol, motorbike riders, cyclists and football teams. I am convinced that both sides will benefit hugely from this agreement: the brand from the impact it will have, and the athlete because he will be able to continue training at the highest level thanks to this financial backing".
Finally Gómez Noya said that "this sponsorship is not only important because of the financial support you need if you are dedicated to sport full time, but also because it is a Spanish brand. I've had several sponsors up to now, particularly sports equipment brands, but never one of the Spanish world leaders in its sector, which is what Pamesa is. So I could not be more satisfied and I hope to give them even more back in return for the confidence they have shown in me".
Gómez Noya: successful season
This season is going superbly for Gómez Noya, "in no previous World Series leading up to the world title has anyone had such a comfortable lead as this year. But the title has still to be won. More points are awarded in the final event in Canada than in the previous rounds and however well placed you are when you get there, if you fail you can lose your lead. If everything goes to plan it's within my reach, but in sport you never know. A week before Edmonton I'm competing in Stockholm; in principle I don't really need the points as they only count if I'm placed better than 4th, but because it's a shorter trip than to the final triathlon I can use it to get into the best shape just before I travel". Of his rivals he says, "I already had Mario Mola down as a candidate for the world title along with the Brownlee brothers. The fact that he's Spanish and that I've been watching him develop since junior level makes me happy, but obviously during the competition he is one rival more and I'm not going to give anything away. Of course I want him to be second in the overall final. And there is another Spaniard, Fernando Alarza, who is also in the top 10. I hope they can also find the support of Spanish firms like I have with Pamesa".
So Gómez Noya's next international competition will be in Stockholm at the end of August. Until then he will be training in his usual locations in Pontevedra, where he has excellent facilities and training partners that push him to give his utmost on a daily basis.