In 2022, many proposals are being taken into account when it comes to renovating bathrooms. The classic total white will never go out of style, but after a long pandemic, interior decoration is now choosing colour. The emotions that each tone awakens are being reflected in tiles. Blue, green, yellow… unexpected colours that are full of personality. At Pamesa Cerámica, we give you several proposals that follow these trends.
COLOURFUL SALT & PEPPER
We've already talked about the return of terrazzo in 21st century decoration. A trend that has become the star effect, covering both floors and walls in an exciting way. At Pamesa, we achieve this effect with our Doria collection, available in a small hexagonal format and in 60×60 and 60×120 tiles. Available in four colours, with a lighter shade for those who prefer a more simple and discrete design, to the multi version, a clear explosion of colours.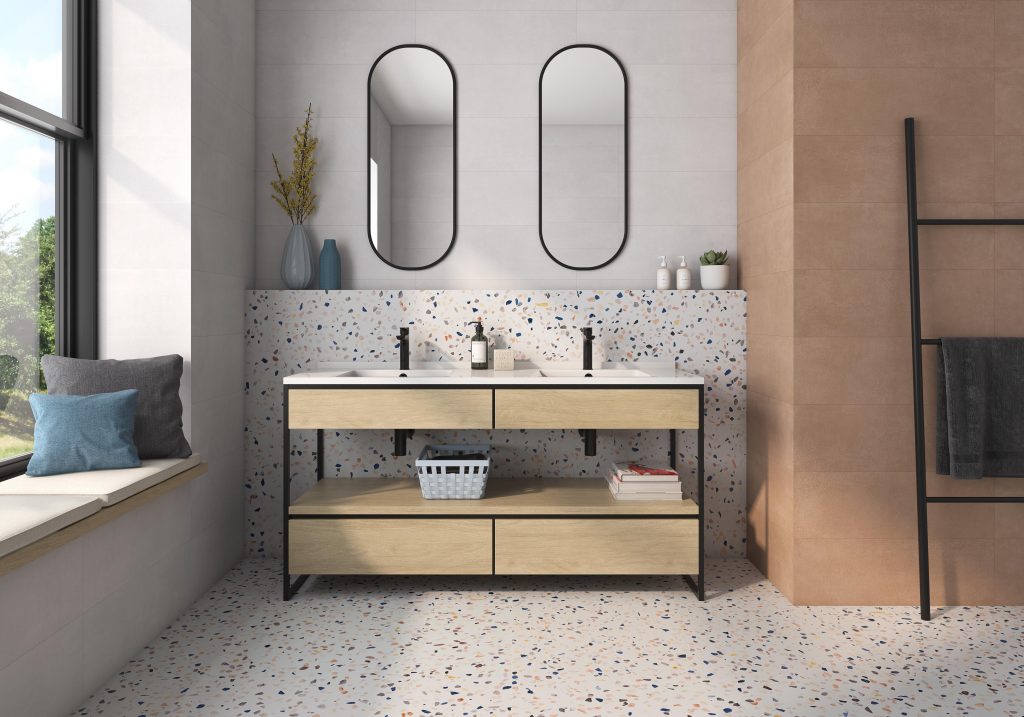 A MENTHOL RUST
Normally we associate the industrial feel of corten steel with dark and coppery tones, but… What if we tell you that it could come in a mint green or ocean blue? This is the proposal of the new Pamesa range, Alloy. With a rust imitation design, it will bring your bathroom to life with its originality, available in both matt and high gloss finishes. A material that, when combined with marble or wood, will give your bathroom that eclectic touch that is all the range in interior design.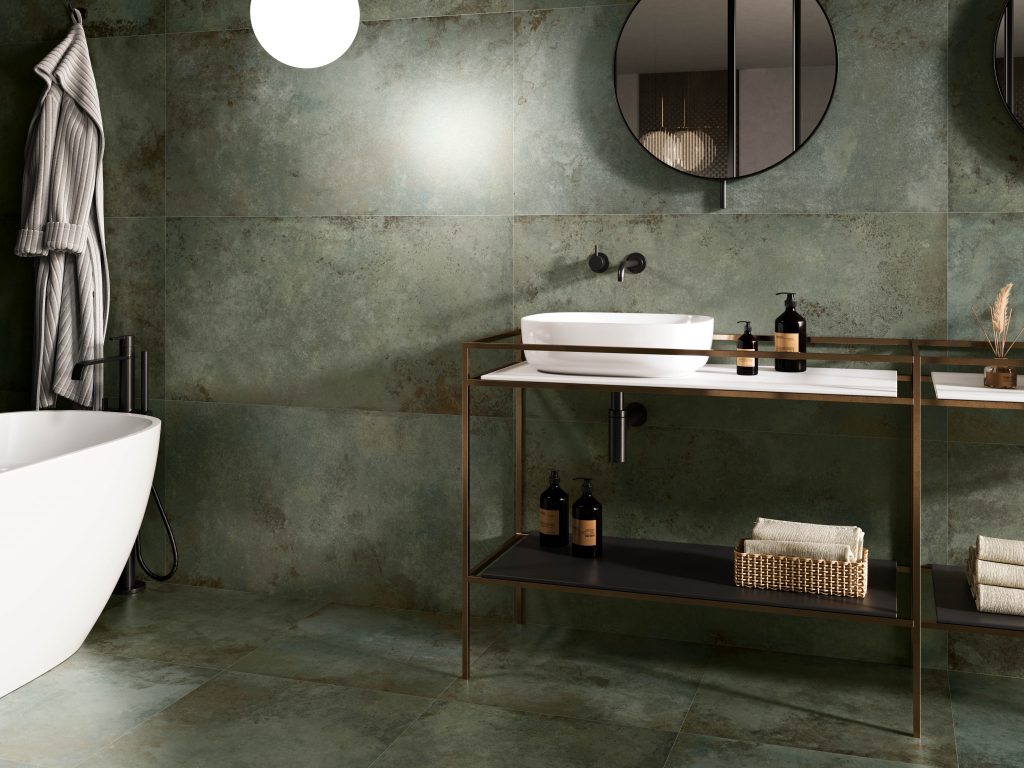 THE DEPTH OF THE SEA WITH NOOR
Choosing just one colour to decorate your bathroom is undoubtedly a very bold trend, if chosen correctly, it can create a very interesting room. In this case, we suggest the Berry colour from the Lux Noor range, the representation of an onyx and all its natural magic. In addition, large-format wall tiles have become a must have in interior design, as they are becoming lighter, making their installation easier. With Pamesa's XXL panels, your bathroom will appear larger thanks to the continuity of the piece without joints.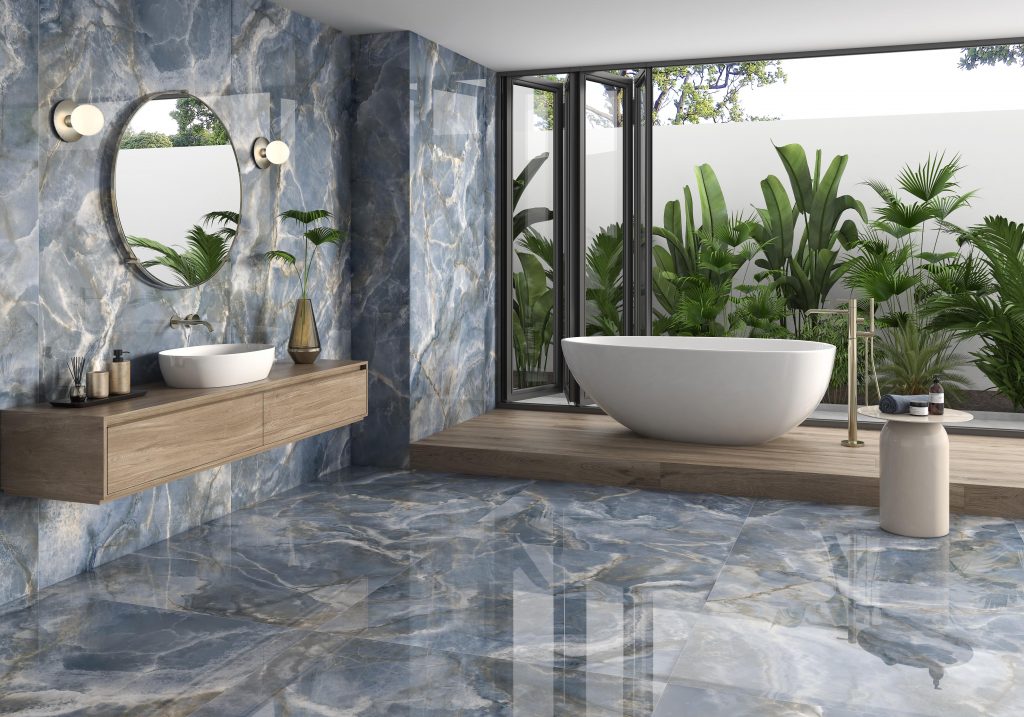 I LOVE YOU GREEN
Wall paper is increasingly present in the interior design of bathrooms and kitchens. At Pamesa, we love the decorative potential of these patterns, but with the resistance and easy cleaning provided by ceramics. A range with four decorations in a 33.3×100 format and a thin design that was born to cover these decorative needs. In this case, we present the Vegetal Trend, an explosive tropical jungle to achieve that exotic air you are looking for in your bathroom. Will you dare to?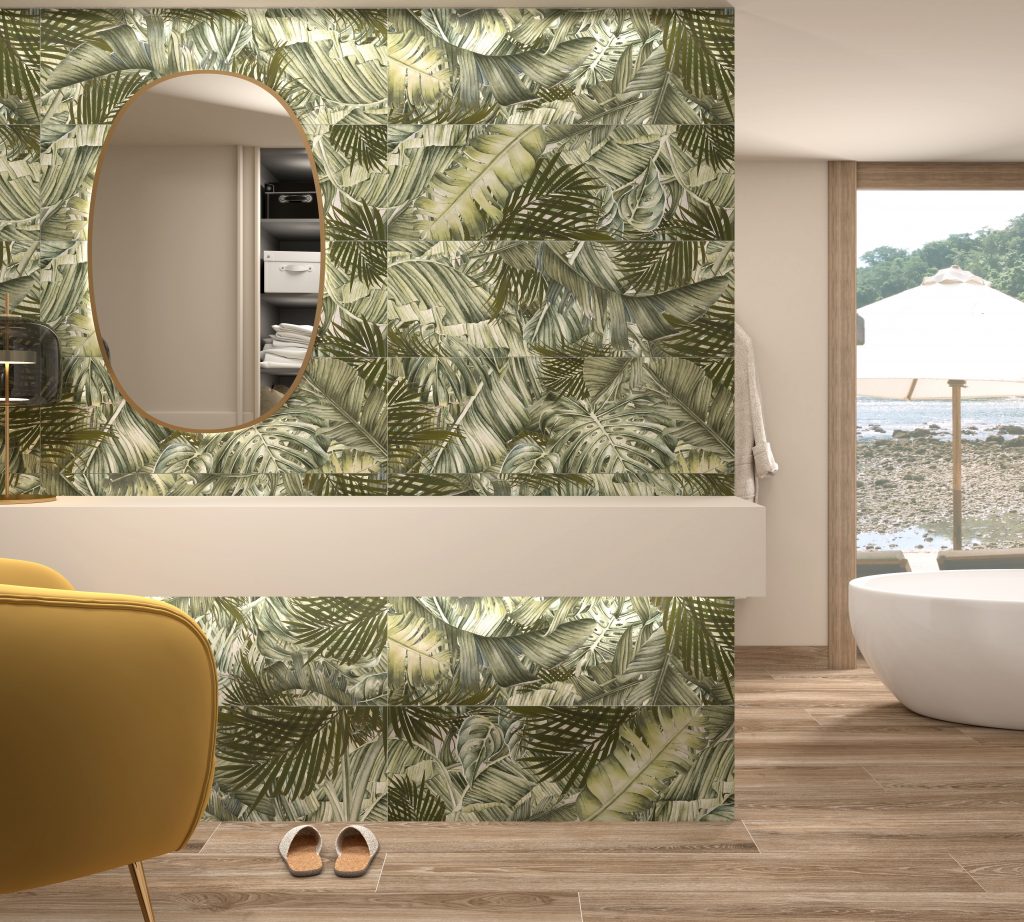 CALM AFTER THE STORM
And if you're looking for something calmer and with less colour, we present Moleanos, a stone that will provide a warm minimalist style to achieve a serene atmosphere. Decorate your bathroom in neutral tones inspired by the nature of the materials. Get a zen environment with this range that is available in large 120×260, 120×120 or 60×120 formats.
Esta entrada también está disponible en: Spanish