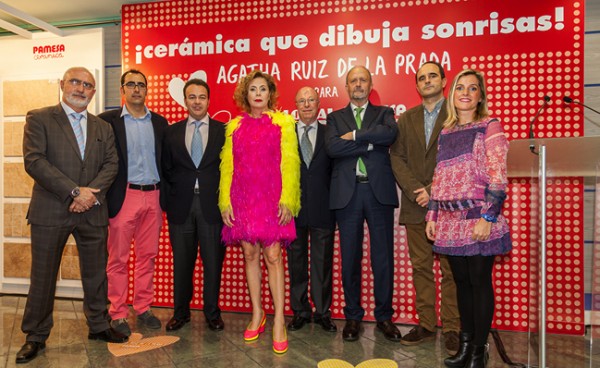 Cheerfulness and creativity embodied in ceramics came to the Cantabrian capital yesterday with a visit from Agatha Ruiz de la Prada. The firm Lostal invited the prestigious designer, who has worked with Pamesa Cerámica since 1997, to an event hosted on their premises.
Dozens of customers and professionals from the worlds of architecture, design, interior design and decoration attended the event yesterday evening at Lostal, located at Calle Lealtad 2.
At the eagerly awaited event in the centre of Santander, guests enjoyed meeting the designer, accompanied by General Manager of the Pamesa Group, Jorge Bauset, and General Manager of Lostal, Santiago García-Lostal, along with professionals from the two companies.
García-Lostal began by expressing his gratitude to Agatha for coming and for "Pamesa Cerámica's contribution in putting on the event." Jorge Bauset then spoke of the more than 40-year professional business relationship with Lostal, "great customers who have been with us since our beginnings". In turn, Agatha highlighted the "so satisfying" professional and personal journey in conjunction with the company and expressed her delight at "the wonderful welcome in Lostal".