Most kitchens are now open-concept ones, sharing the same space as the living area (almost 50% of the population had opted for one in 2018). This open layout is a versatile, convenient solution, boosting opportunities for social interaction.
Open-plan kitchen/diners or kitchen/living rooms have a far more spacious feel, while also improving the home's ventilation and boosting the amount of light. When these partition walls are got rid of, certain factors should be taken into account in the design of these interiors.
Trend: open-plan kitchen/diners
With this type of kitchen, there are two possibilities: either the same flooring can be used in the kitchen and living area, or else a different tile model can be chosen for each part. In this blog, Pamesa Cerámica offers a few tips and examples to help you decide on the design of your kitchen and to choose the tiles that are right for you.
The same flooring throughout your open-plan kitchen/diner
If you prefer a simple uniform design, we suggest that you use the same floor tiles for the living and dining areas. This creates a more spacious feel, doing away with architectural barriers and helping to integrate these areas. Furthermore, by using the same floor tile model in both areas, it is much easier to choose the furniture, its colours and the layout. And remember to stick to one style coherent with the rest of the home.
If you opt for an open-plan kitchen with the same floor tiles throughout, the colour will depend on the design style you choose and on the available space.
To decorate small spaces, it is always better to use pale colours (pale grey, off white, mint etc.) and/or white, with a countertop in the same colour as the floor. These colours give rooms a more luminous, spacious, relaxed feel.
To decorate bigger areas, first choose a particular design style. If you decide on an elegant, sophisticated look, wood and dark colours (black or grey) are perfect for creating a kitchen with a strong personality. These colours in kitchens are typical of rustic or industrial styles.
Wood-effect porcelain tiles for integrated kitchen/living areas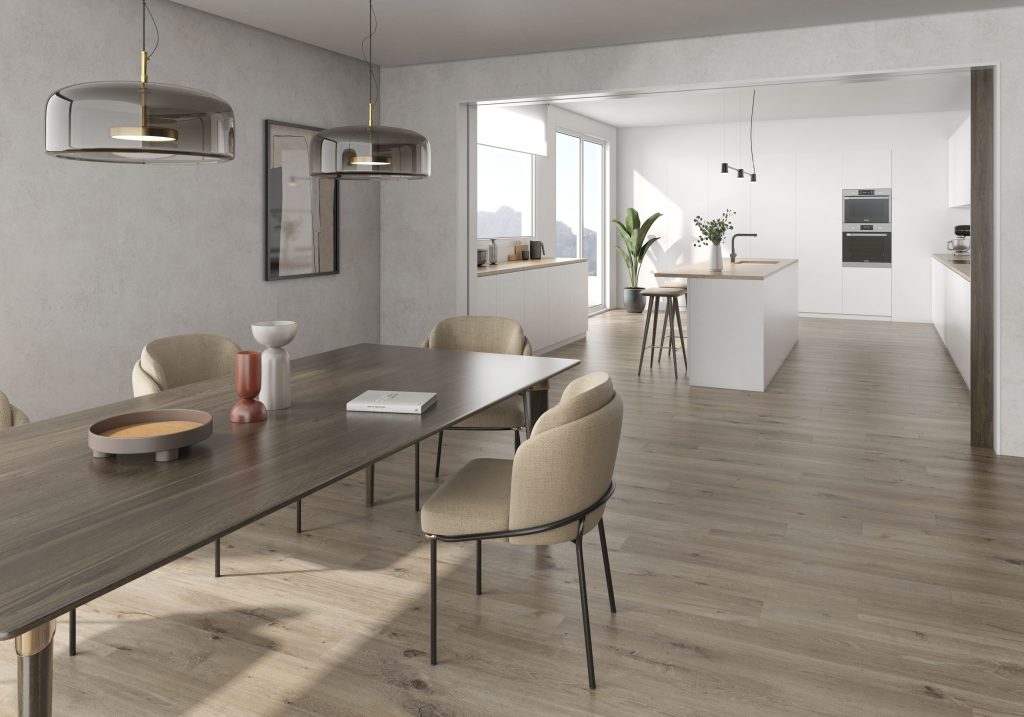 To create a more spacious feel and flooring with a more seamless appearance, one possibility is to use the same tile model for the kitchen and living area. This will make the room seem bigger than it actually is.
To help you find the right model, check out all our wood-effect tiles.
Cement-effect porcelain tiles in open-plan kitchens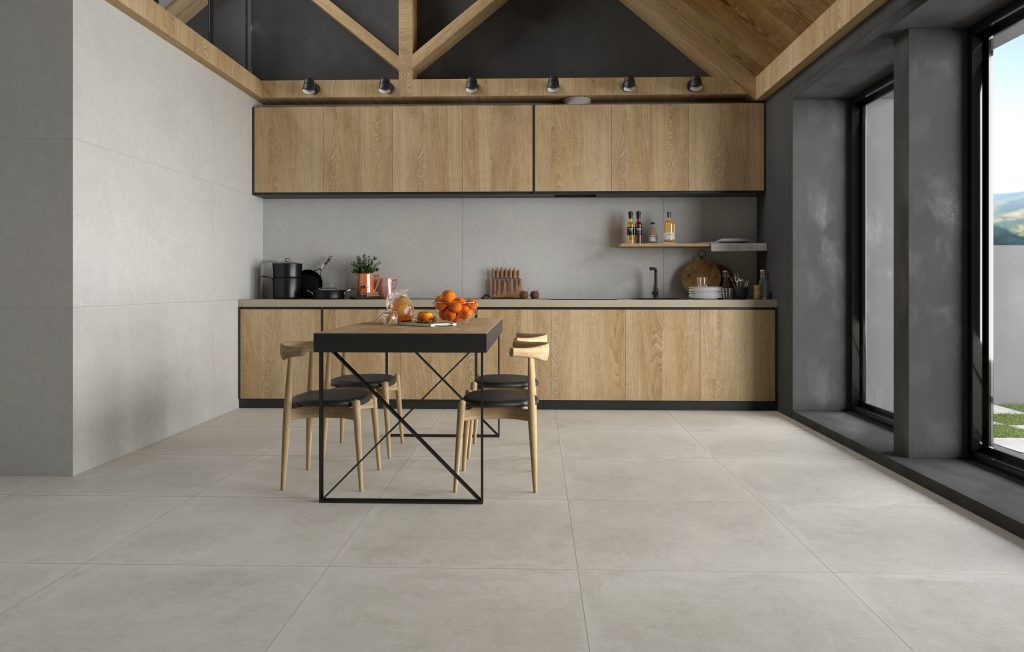 To give the room a genuine industrial appeal, the same cement-effect floor tiles should be used in both the kitchen and living areas. This guarantees a more spacious, seamless appearance and a home just like the ones you see in design magazines.
Pale-coloured floor tiles in your open-plan kitchen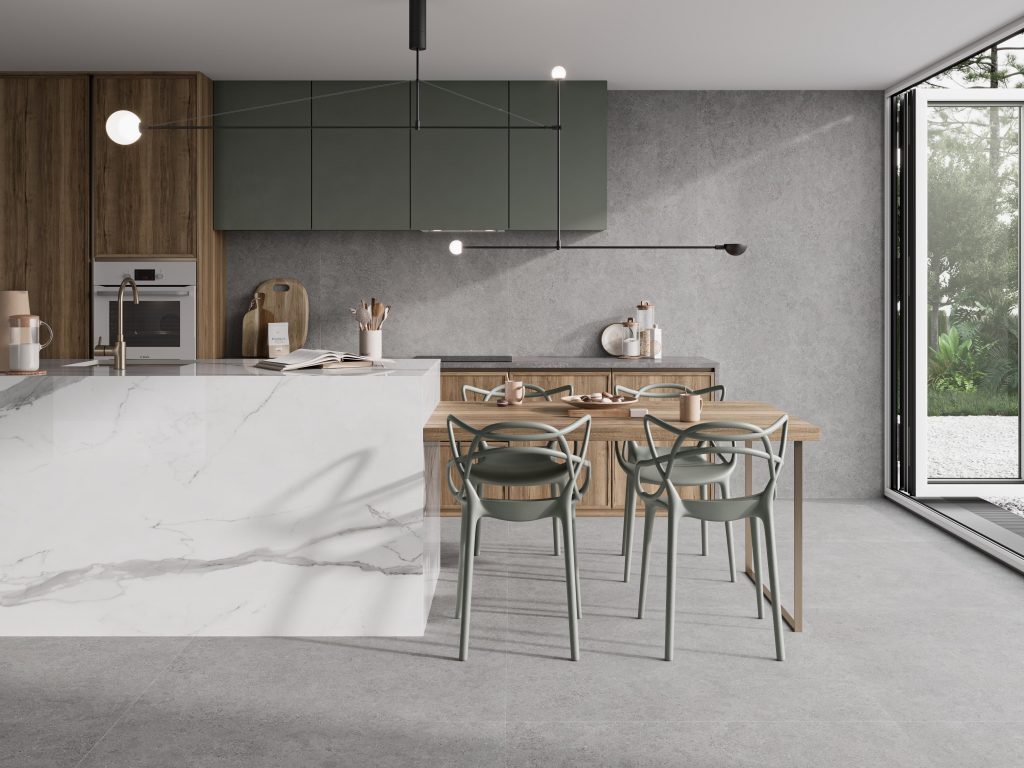 If your kitchen is not very big, one of the best ways to give it a more spacious feel is to use pale-coloured tiles on both the walls and floor. This will infuse it with greater luminosity and create the impression of a bigger cooking area to prepare your favourite dishes.
Different flooring in your open-plan kitchen/dining areas
Another alternative is to mark out different areas, singling them out visually instead of partitioning them off. This does not create the seamless appearance that we mentioned above, but it can bring a touch of colour to these interiors and you can highlight certain features, create a contrasting kitchen area, or make it stand out by lending it an original touch.
If different tile models are used, you can opt for ones in similar shades or you can highlight the kitchen or living area by using imitation encaustic cement floor tiles or contrasting colours. When two types of flooring are used, never try to imitate other materials (e.g. don't use natural wood with wood-effect porcelain tiles) and always think carefully about where you will separate the two areas.
Imitation encaustic-effect floor tiles in open-plan kitchens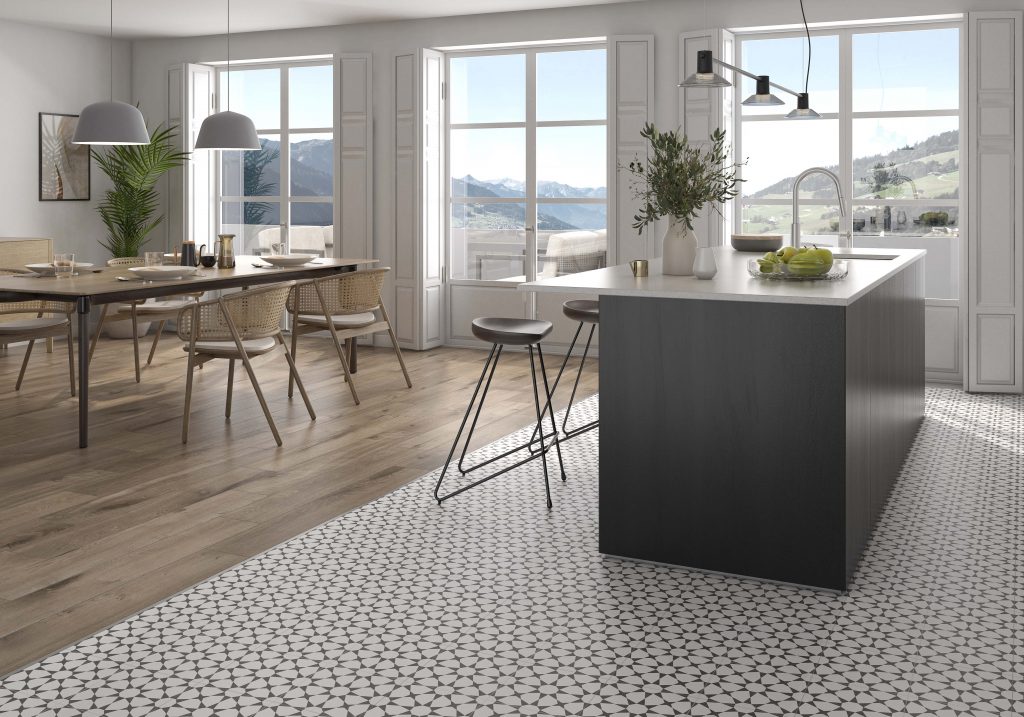 If you want to get out of your comfort zone and go for something bolder, your best bet is to use imitation encaustic-effect tiles. In our catalogue, which you can access with the previous link, models can be found in multiple shapes, patterns and colours.  
Differing materials for the kitchen floor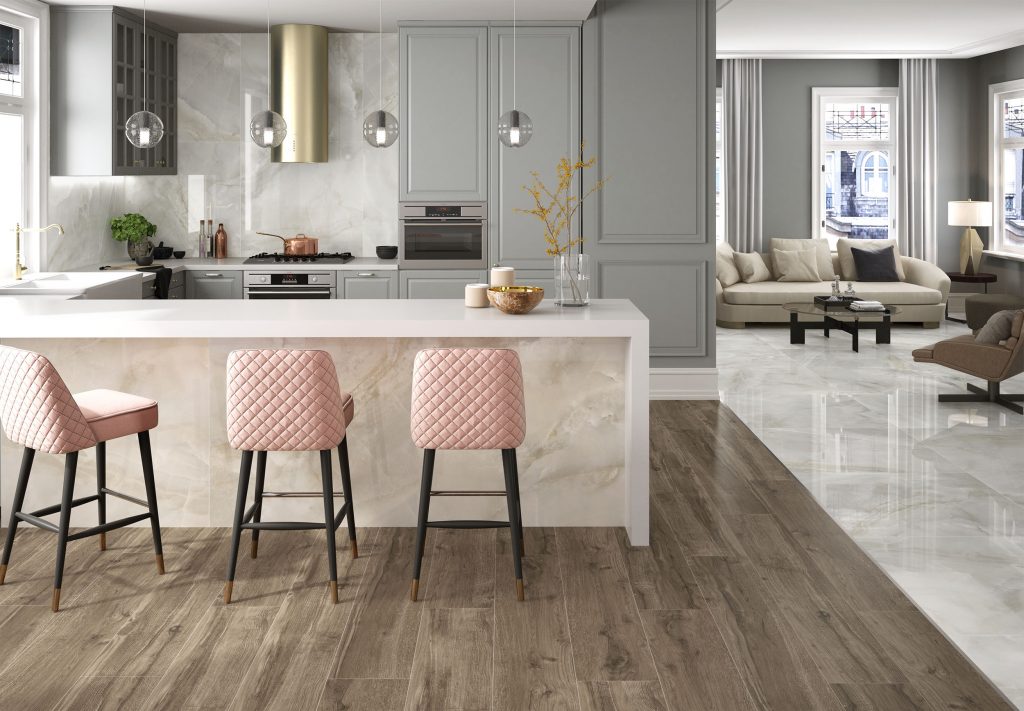 Another good solution is to use two different tile models to mark out areas or to create decorative tile rugs.
Pamesa Cerámica offers a myriad of tile products for the kitchen and for other rooms in the home. Click on this link to see kitchen settings and to find the model of your dreams: https://www.pamesa.com/productospam.html?id=2