Increasing priority is being given to bathroom design. Bathrooms have gone from being an overlooked part of the home to an important living space to bear in mind in home design decisions. Here at Pamesa Cerámica, we'd like to give you a few tips on how to give your bathroom a modern, stylish twist.
Before you make any choices, first familiarize yourself with the main trends in interior design so that it's easier to choose the one most in keeping with your personality.
The same porcelain tiles on the walls and floor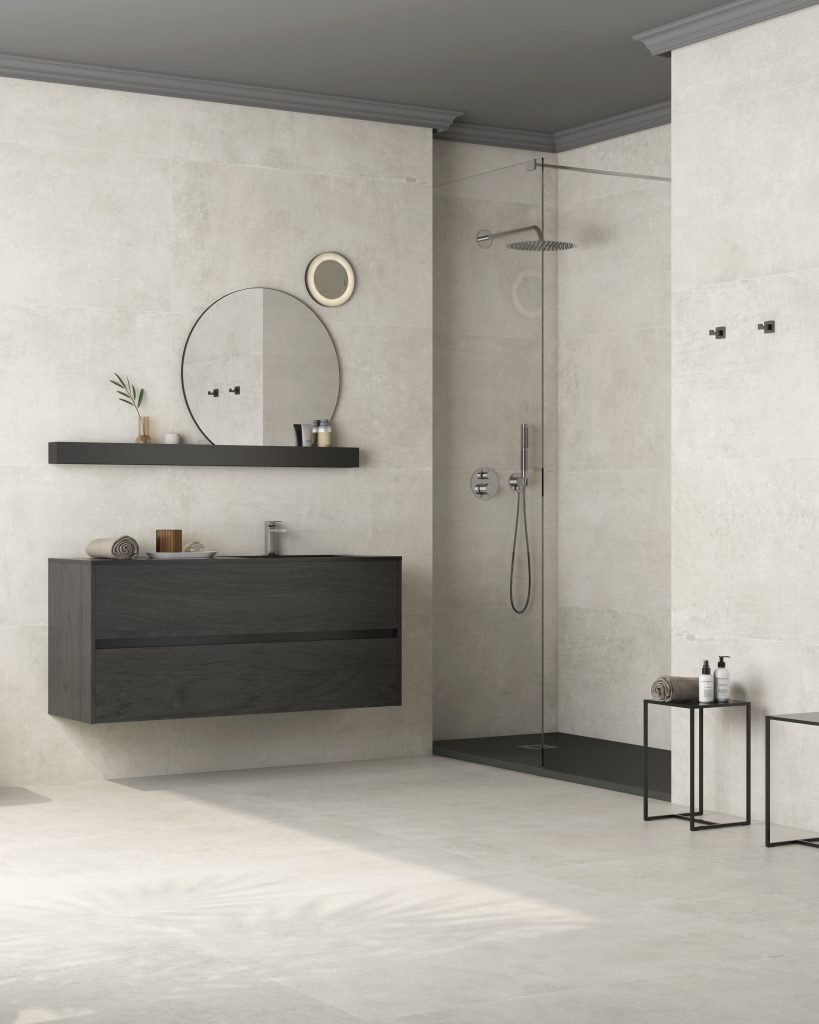 If you want to give your bathroom a spacious, harmonious feel, it's a good idea to use the same tiles on the walls and floor. To give it a certain dynamism, don't forget to take good advantage of the colours and textures of the furniture and decorative features.
Different porcelain tiles on the walls and floors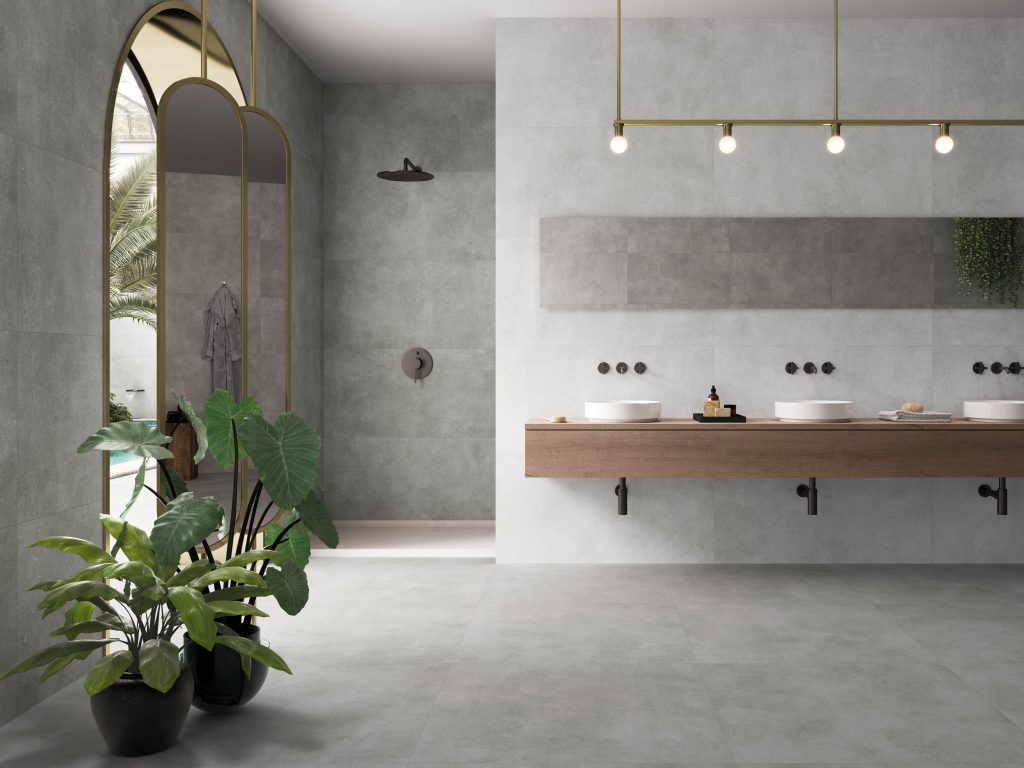 If you decide to use different tiles on the walls and floor, this gives you more opportunity to customize your bathroom. It'll also make it easy for you to stamp your own hallmark on it and to break away from any sense of monotony. One way to do this is to use tiles from the same collection or tiles with the same effect in different shades, making sure that you put the darker shade on the floor and the paler ones on the walls to create a more spacious feel.
Walls with encaustic-effect tiles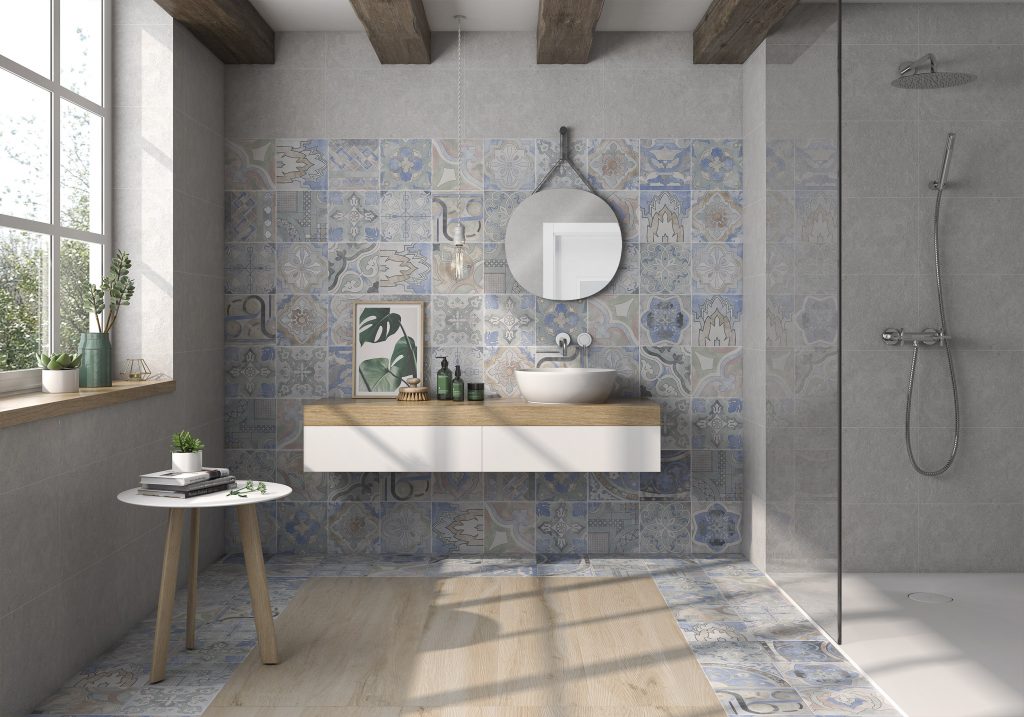 By using encaustic-effect tiles on walls, you can convert the basin splashback or the shower area into a star feature of the bathroom while also lending it a touch of colour. In recent years, encaustic cement tiles have made a comeback in interior design as a means of infusing homes with character. Are you bold enough to have a go?
Encaustic-effect tiles on floors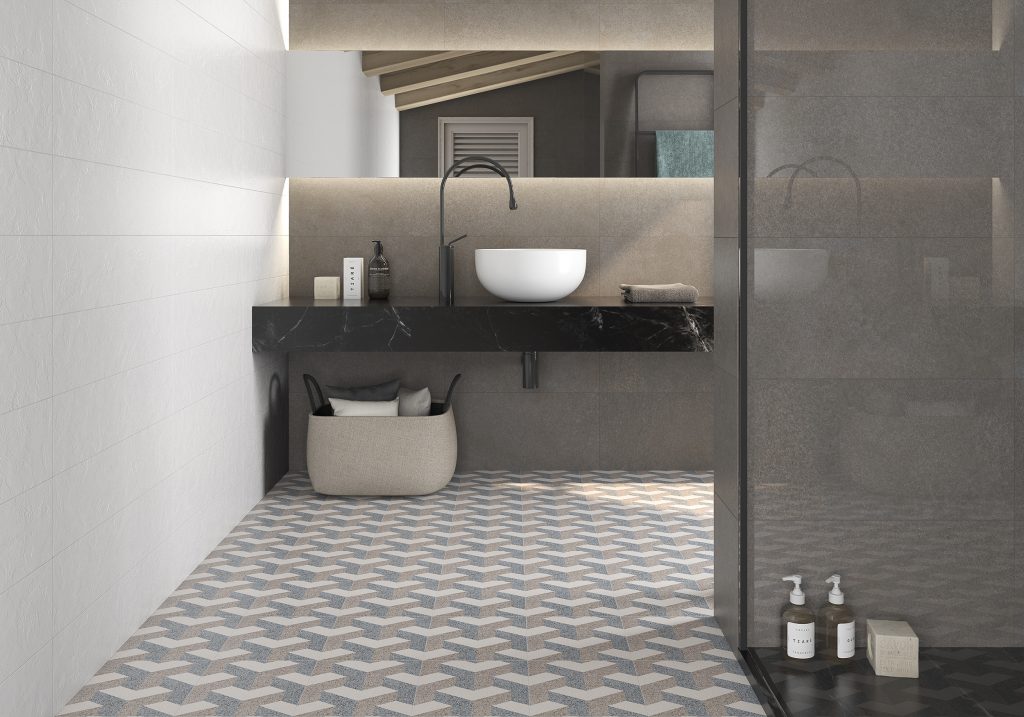 This is a very eye-catching type of flooring and so it should be combined with neutral-coloured wall tiles. This way, the floor tiles' patterns and colours will set the stylistic tone. Encaustic-effect tiles are always a good choice for any room in the home. These retro looks help to give bathrooms an original, distinctive appearance.
Wood-effect flooring for bathrooms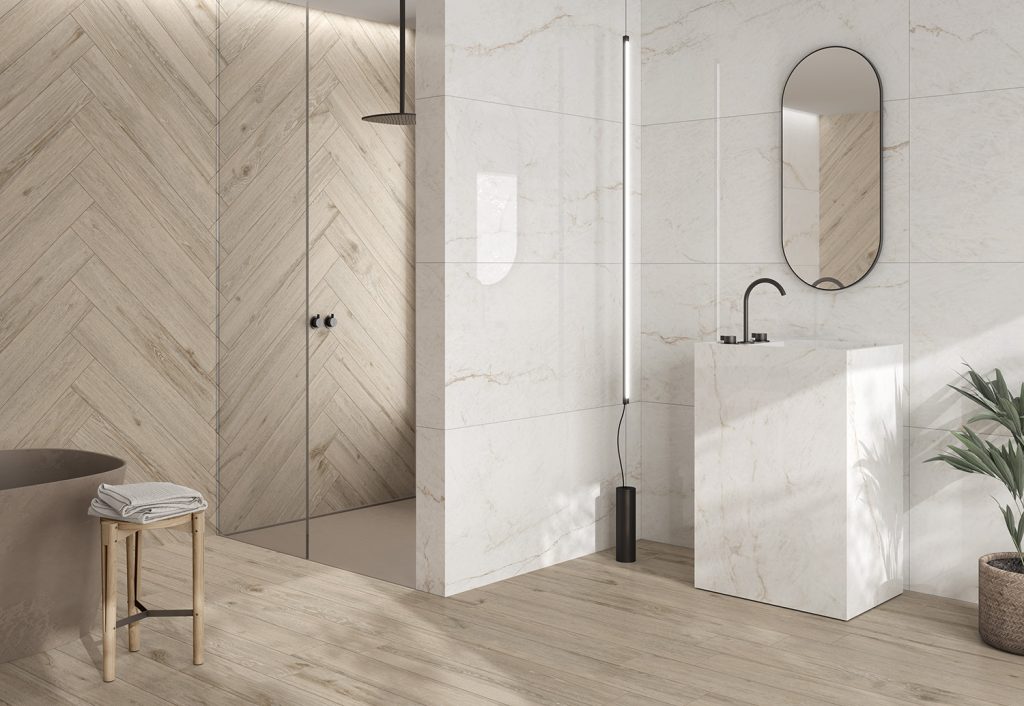 Wood is a risky material to use in bathrooms, given the amount of moisture there. If, on the other hand, you opt for wood-effect tiles, you can bring a warm feel to the bathroom combined with all the technical benefits that ceramic tiles offer.  
Relief-textured tiles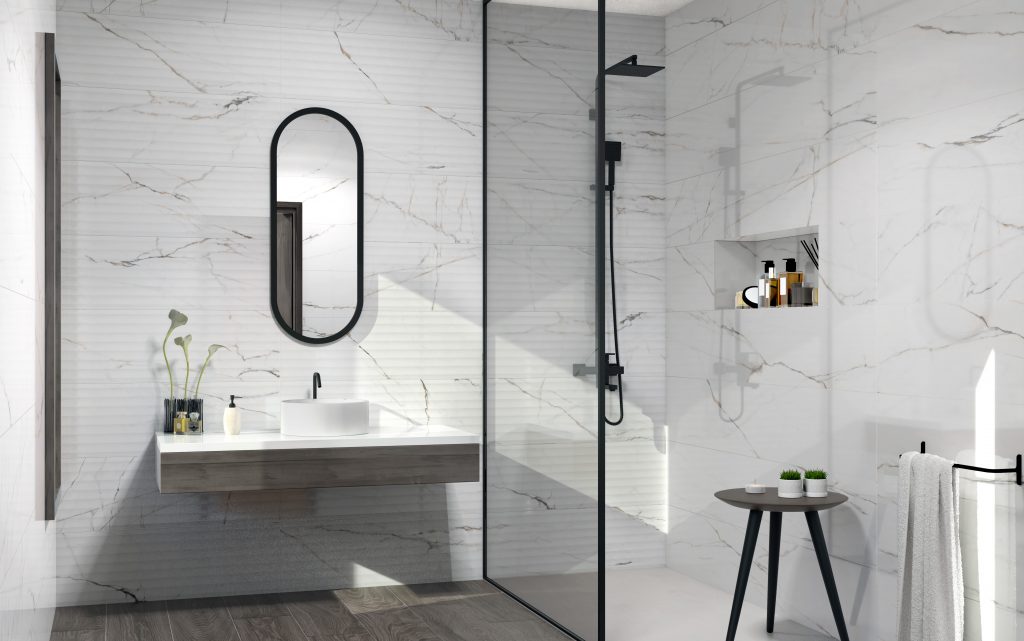 Relief-textured wall tiles bring a sense of depth and dynamism to living spaces of all kinds. This type of tile is also the in thing. Here at Pamesa, we offer a wide variety of textured tiles. Click here to see them:Wall tiles with relief textures.
Wall tiles with floral or plant patterns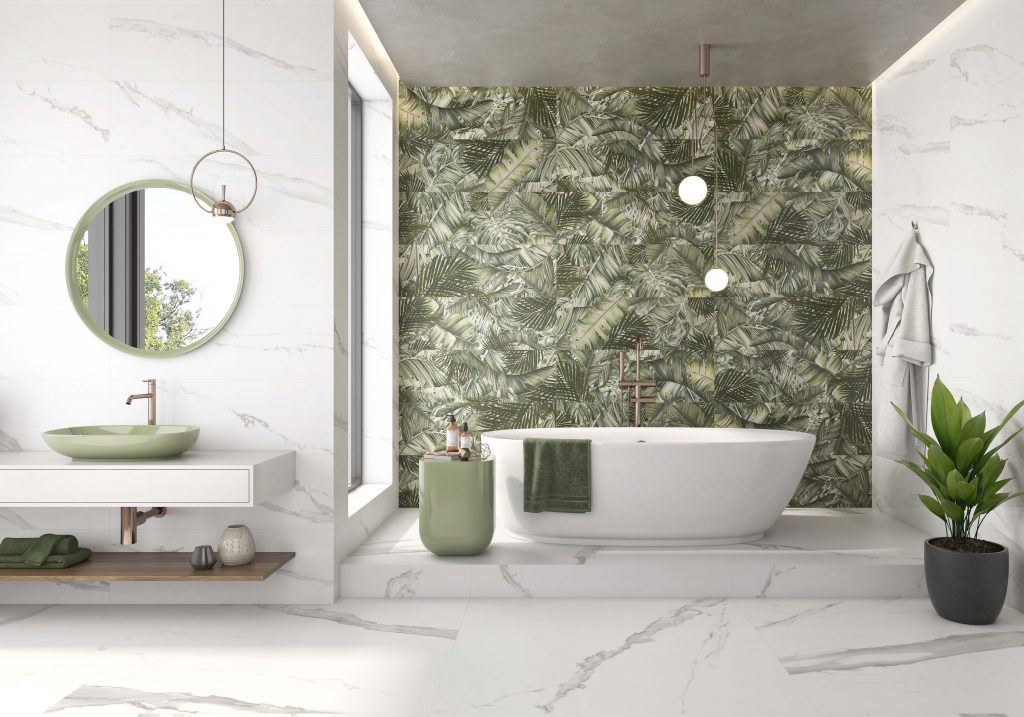 When plant motifs are used to create focal points on walls, all living spaces are infused with added visual appeal. This plant-patterned tile is a timeless classic, bringing nature into the home and inspiring you with the energy you need in your day-to-day life.
Mediterranean style bathrooms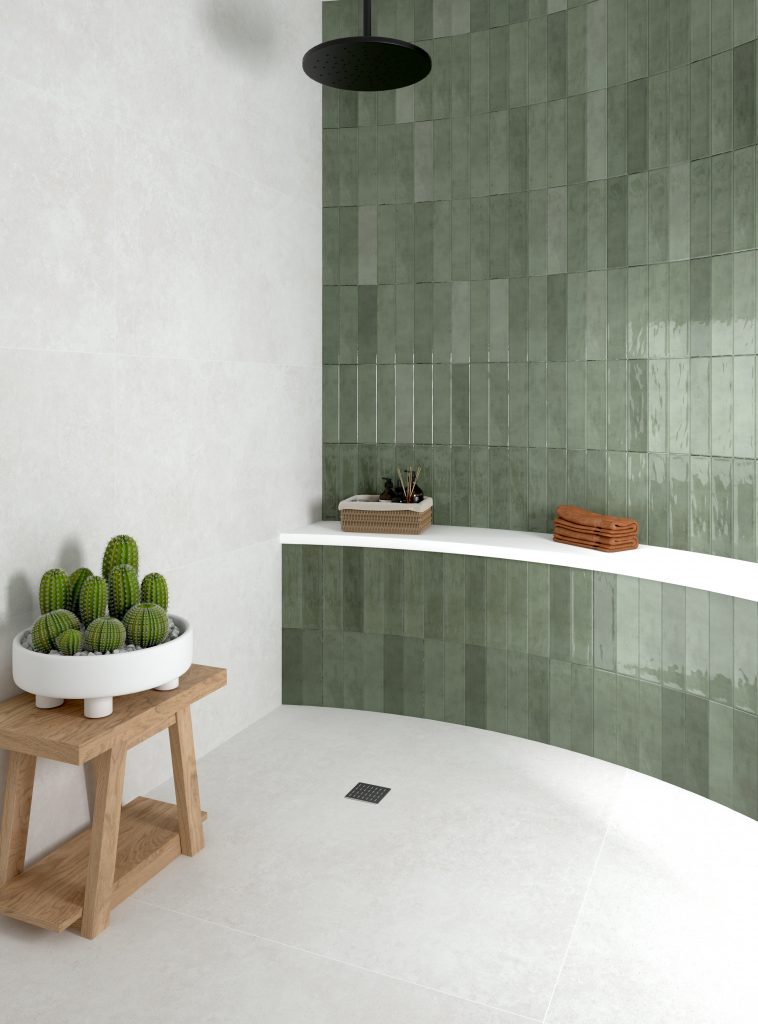 Bathrooms with maritime or natural links are the most popular. In them, colours like blue, aquamarine, green and turquoise are used. This modern bathroom is filled with luminous vibrant colours, far removed from classic shades, infusing it with a strong fun-filled personality.
Metro tiles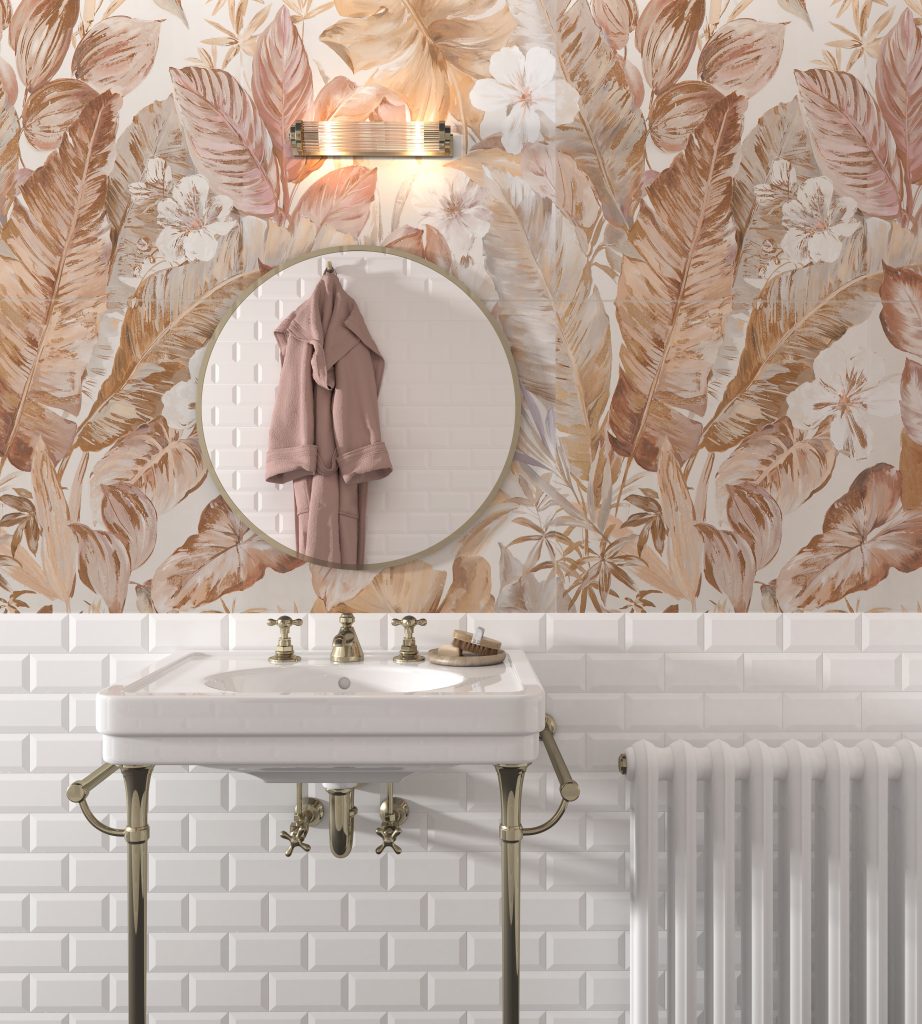 These metro tiles–that is, 7,5x15cm rectangular, bevel-edged tiles–will bring an industrial look to your bathroom, opening up all kinds of possible combinations. This kind of tile also comes in an extensive choice of colours and it can be laid in different ways. See the bottom wall of the bathroom in the photo by way of an example. 
Esta entrada también está disponible en: Spanish