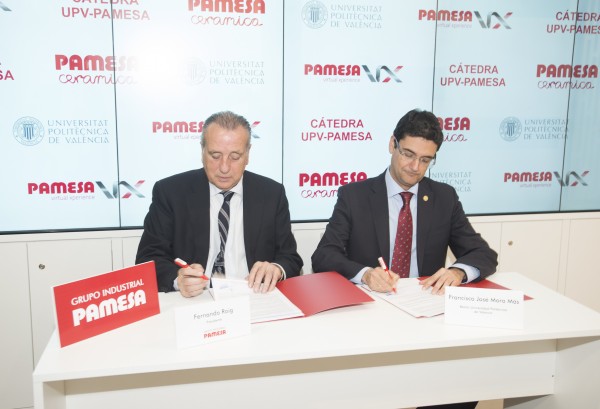 President of the Pamesa Group, Fernando Roig, and the rector of the Polytechnic University of Valencia (UPV), Francisco Mora, met today at the ceramic company's stand in the Cevisama fair to sign a collaboration agreement for the creation of the PAMESA-UPV Chair.
The initiative, initially agreed for a three-year renewable period, is attached to the Laboratory for Immersive Neurotechnologies (LabLENI), which belongs to the inter-university Bioengineering and Human Centred Technology Institute (i3B), and is headed by professor Mariano Alcañiz of the Department of Graphic Engineering.
This academic chair will focus on training, technological development and knowledge transfer in the area of immersive technologies applied to communication and interaction with the ceramic sector consumer. The UPV and PAMESA will work together on various projects for development by the LENI-i3B laboratory.
President of the Pamesa Group, Fernando Roig, stated that "this academic chair reflects Pamesa's aim to incorporate cutting edge technology in order to offer its clients the best and most simple tools with which to see their project in a virtual environment. Virtual technologies can be used to enhance users' experiences during the process of choosing and purchasing ceramic materials for the home, and in this field Pamesa is a pioneer in applying this technology as we have seen on our stand at Cevisama this week".
In turn, Mariano Alcañiz, director of LabLENI-i3B, explained that "with this project we want to develop knowledge in the area of technological interaction and measuring consumer behaviour. To do this we have used the most up-to-date immersive technology which allows interaction with users and scientific analysis of their actions".
The project known as Pamesa Virtual Xperience installed at the Pamesa stand during the Cevisama fair has aroused great expectation among visitors. This virtual interaction improves the user experience during the purchasing process through three essential supports:
Interactive 360º Video can be visualised on any device (computer, tablet or mobile). When users put on their Cardboard glasses, they enter into an immersive experience that allows them to move around and explore the contents of a virtual environment as though they were physically present. This interactive video can also be seen at www.pamesavx.com and attracted the attention not only of Pamesa's customers, collaborators and promoters but also of the president of the Generalitat, Ximo Puig, who showed great interest in the innovation on the opening day of Cevisama.
Pamesa Cube is an immersive cube that shows the user different virtual reality environments and projects them in real size. With the cube clients can experiment to create different decorative styles using Pamesa's materials. These environments are rendered in actual size and can be personalised for each country, and even for each user.
Pamesa Touch interactive Videowall, a new way of demonstrating Pamesa's collections, with high-resolution screens providing a better viewing experience and the ability to incorporate new collections immediately at all sales points. Its additional advantages are that the user's experience can be maximised by learning about the client's interests (analysing where they interact most) and by seeing how the user feels about what he or she is looking at on the screen using the latest 'facereading' tools.
To put these applications into practice for Pamesa, LabLENI has assembled a renowned team of researchers and developers in the facilities of the Laboratory for Immersive Neurotechnologies, which has the most modern technologies for developing immersive neuromarketing solutions applied to point of sale, according to Mariano Alcañiz, Director of LabLENI.