Balance is one of the defining elements of nature, and geometry is essential for recreating the pure symmetrical figures of the natural world. Our environment reflects the meticulous precision of these impeccable forms, and it is therefore of no surprise that throughout history, geometry has provided the foundations and structure for myriad creations such as those of the renowned 20th century artist Wassily Kandisky.

This premise also applies to ceramic tile design, as despite a strong leaning towards classicism in the design of field tiles and relief textures, there is an equally evident determination to apply these trends to more contemporary wall tiles. In the new Universe catalogue, series such a Snow and Mayfair use coffering and hexagons to an almost hypnotic effect, instantly drawin the eye in a range that includes wall and floor tiles as well as vertical decorative options…


Indeed, the use of geometry in interior design is considered a way of creating optical and visual effects in a dynamic and daring break from the monotony of flat walls. Geometry is such a versatile resource that we have created no fewer than eight series in a large 33.3×100 format offering a range of outstanding characteristics: these slim, 7 mm tiles are flexible, lightweight and easy to install. An extra advantage is that they are eco-friendly, as less material is used to produce each tile, thereby cutting emissions and the amount of waste generated.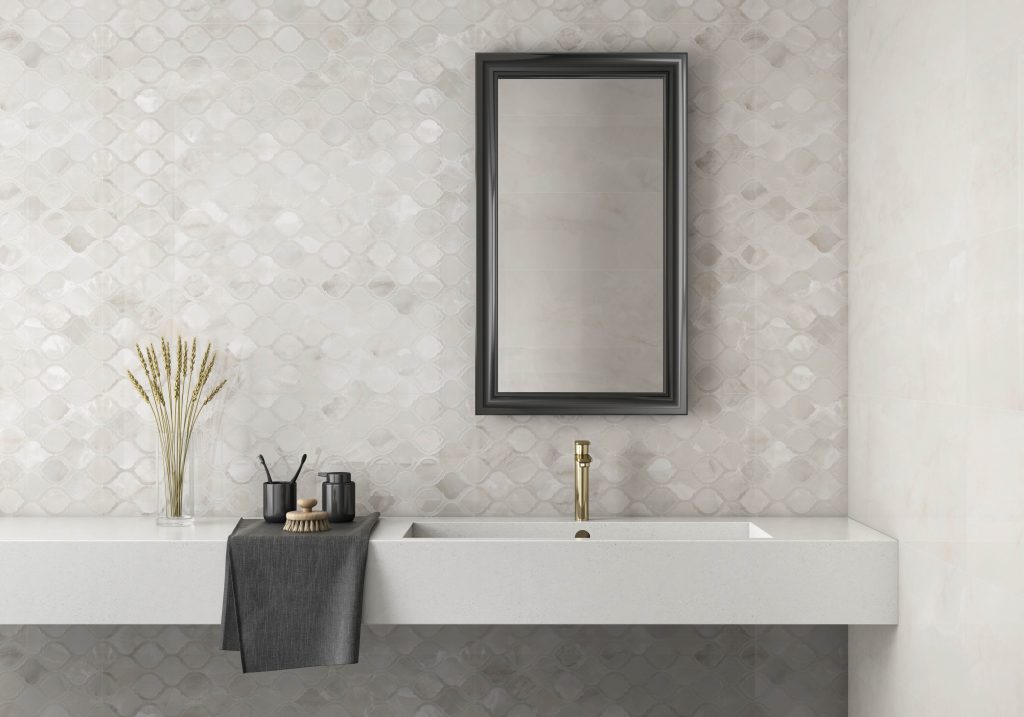 These new designs provide a sense of vitality and myriad possibilities thanks to the range of field and relief tiles and a choice of decors: Ageri, includes a cement effect field tile and a relief tile featuring squares and shading in three bold tones; Brienz, has a characteristic metallised relief in a bold take on quintessential vintage style; Imbros pays tribute to Carrara marble, with a relief tile and décor guaranteed to turn any space into an authentic jewel; Incir and its relief tile recreate the classic Statuario marble in the purest of whites; Sils, with its glossy relief tile, is a series that reflects the essence of cement in tones that vary from cool to warm; Symi is a marble-stone effect tile with irregular broken veining that, together with its matching décor and relief tile, adds a touch of class to any corner; Wallen is a wet cement effect tile that is ideal for creating an industrial setting; and finally Lemnos, inspired by the timeless onyx, is portrayed in two tones.
Esta entrada también está disponible en: Spanish