If you are thinking about a makeover for your bathroom and you want to be sure of getting it right, go for white. More splendid than ever before, white tiles bring a fantastic feeling of light and spaciousness to any area.
This neutral tone par excellence is associated with luminosity, spaciousness, tranquillity and serenity, and as well as making a perfect match for any interior decor style it will always be a 'must' in decoration.
We bring you 5 ideas to change your bathroom with ceramic tile solutions from Pamesa where white plays a starring role: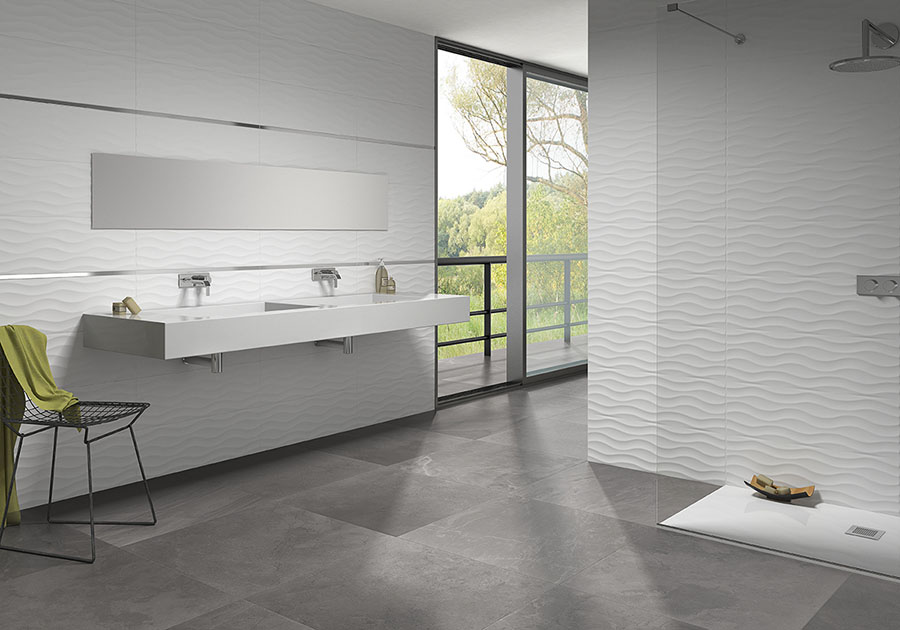 #1. Go for walls with a textured feel. Wall tiles can make your bathroom more exclusive by using pieces brimming with dynamism and sophistication. Neige Blanco, in 25×75 centimetre white body format, combined with a 2×75 centimetre gloss silver metal moulding is a great option if you're looking for an avant-garde style bathroom with a palpable feeling of movement. The grey floor tile Gea, a porcelain stoneware in 75×75 centimetre format gives a striking colour contrast.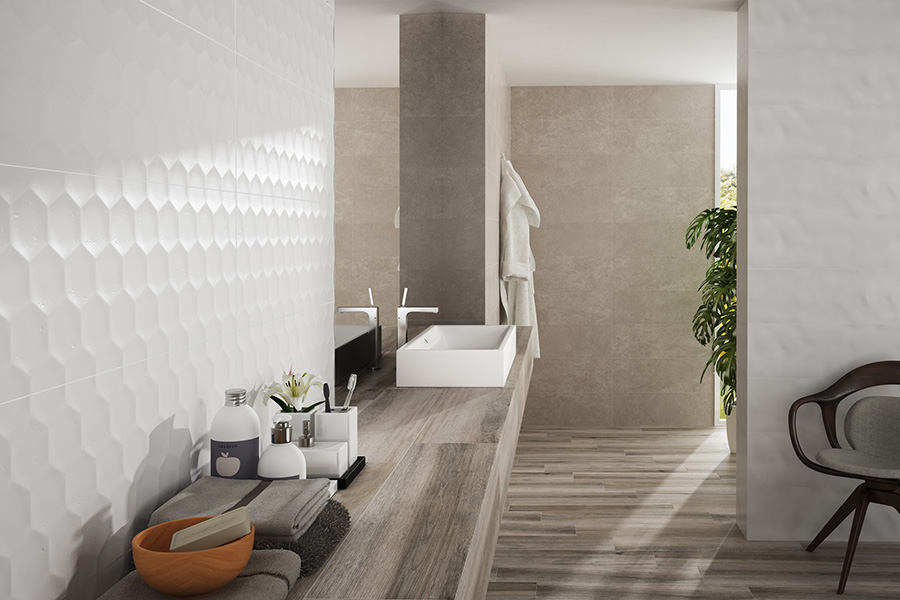 #2. Blend a variety of materials. If you're a nature lover, there's no better solution than combining different ceramics that mimic natural materials. As well as white, pearl tones are used in this bathroom, with wall tiles Coton Blanco, Glace Blanco and Soul Perla, 25×75 centimetre pieces in white body tile fused with Bosco Cenere wood-effect porcelain stoneware floor tiles, creating a space full of personality and a perfect warm atmosphere.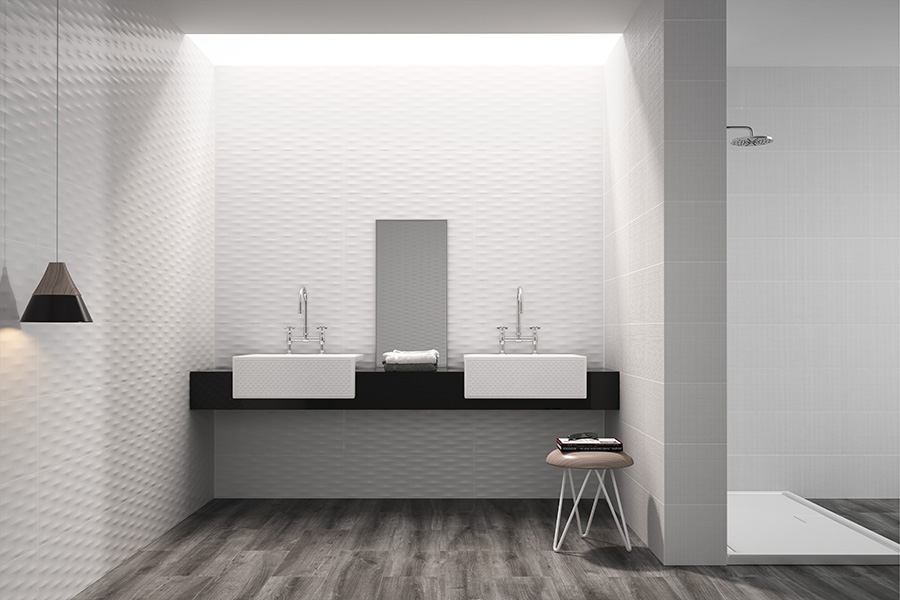 #3. Choose tiles with relief. Go for white wall tiles with relief features to replace the usual linear look if you want a change from smooth finishes. Linen puts white at the forefront of this bathroom, but blended with Voile to guarantee a contrasting touch. A combination of smooth and relief pieces, in 25×75 white body, brings a highly attractive voluminous feel, following a more minimalist trend. The wood-effect floor tile, a 22×85 centimetre format in porcelain stoneware, finishes off the bathroom with a warm touch. Atelier, in ash, picks up the richness of old salvaged wood in grey tones.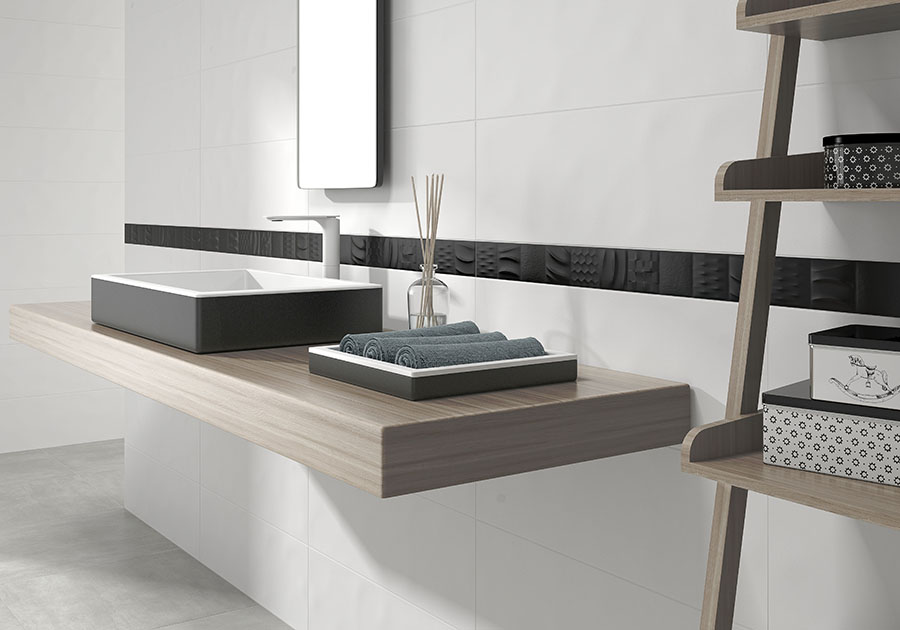 #4. Add a few touches of black. If what you're aiming for is sophistication and elegance, you can choose white but include several accessories in black. In this example, black is used for details and other objects in the room, such as the moulding Dido, in 7.5×75 centimetre format. White is the main focus of attention, with white body 25×75 centimetre tiles from the series Coton. Include some two-tone pieces like the washbasin and a few decorative objects to break up the large expanses of white in the bathroom.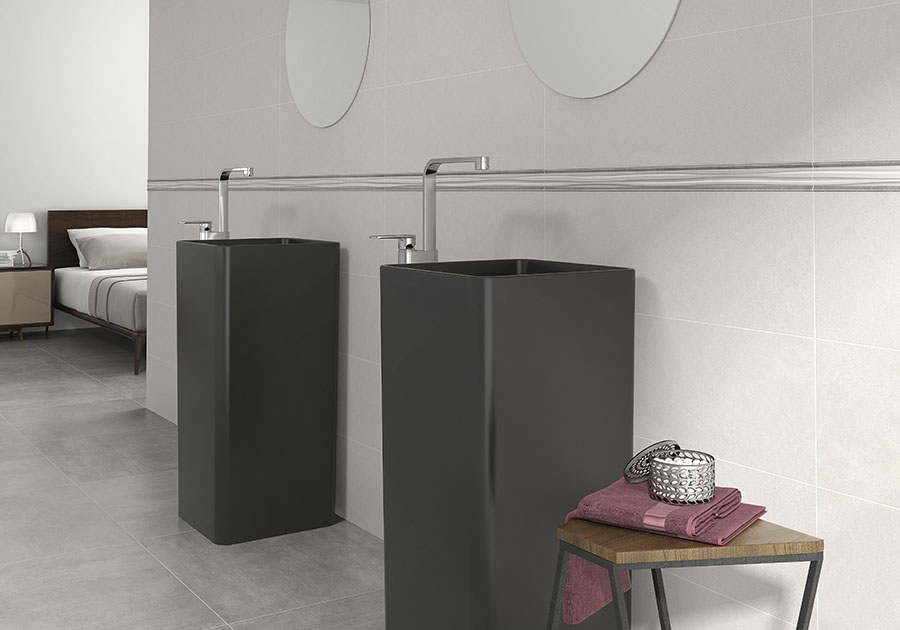 #5. Go for the light touch. The interior decor trend of 'less is more' is more in vogue today than ever. White wall tiles are ideal for this pure style, outstanding for their simplicity and functionality. These Soul Blanco pieces, in 25×75 centimetre white body, give a feeling of freedom to this open space that forms part of the bedroom. The moulding Arosa, in 5×75 centimetres, is a perfect addition to this setting, a symbol of good taste. For the floor we used Provenza, a porcelain stoneware 60×60 centimetre format in the colour perla.