What material should you choose for the living room? The charm and beauty of marble plus the added value of porcelain stoneware's resistance offer a world of solutions to replicate classic architectural styles.
The star of bathrooms and kitchens now takes pride of place in living rooms as an ideal embodiment of luxury and sophistication. If you are thinking of revamping your living room, here we give you 5 reasons for bringing marble into the heart of your home: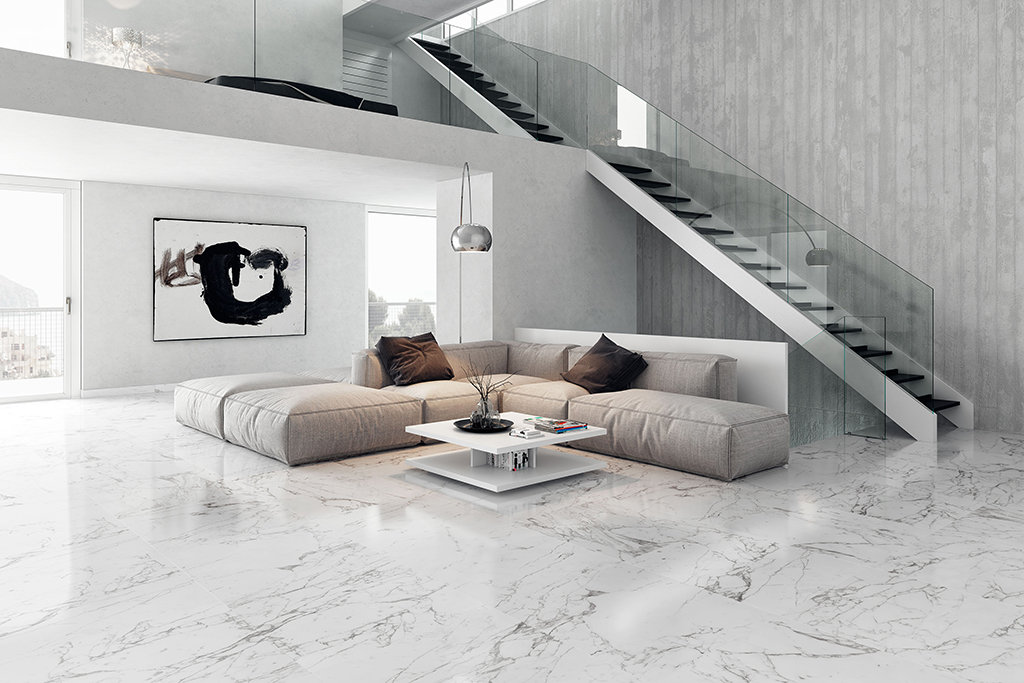 #1. Elegance. Distinction holds sway in the Venato collection, which stands out for its elegant white tone woven through with subtle veins. Large format pieces (75×75 centimetres) in porcelain stoneware with a high gloss polished finish that reflects natural light into the indoor space.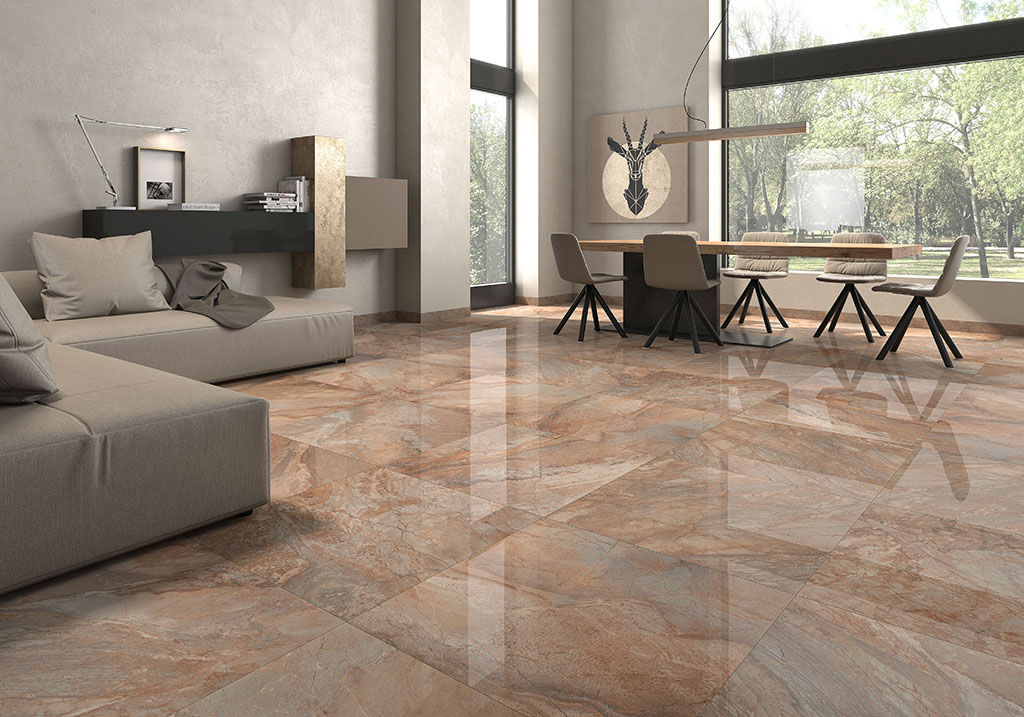 #2. Wide range of colours. Evocative of the diverse colours of real marble, Coba faithfully reproduces natural tones like brown, mocha and pearl. 75×75 centimetre pieces with Leviglass finish were chosen for this space, creating a contemporary living room showing the fresh comeback of this material.
#3. Guaranteed durability. The extraordinary resistance and easy maintenance of 75×75 centimetre porcelain stoneware pieces make them ideal for living areas. Added to this in this room is the beauty that comes with the Sinai collection in perla, highlighted by large format high gloss pieces. This model is also available in the colour hueso and is extremely adaptable to different decor styles.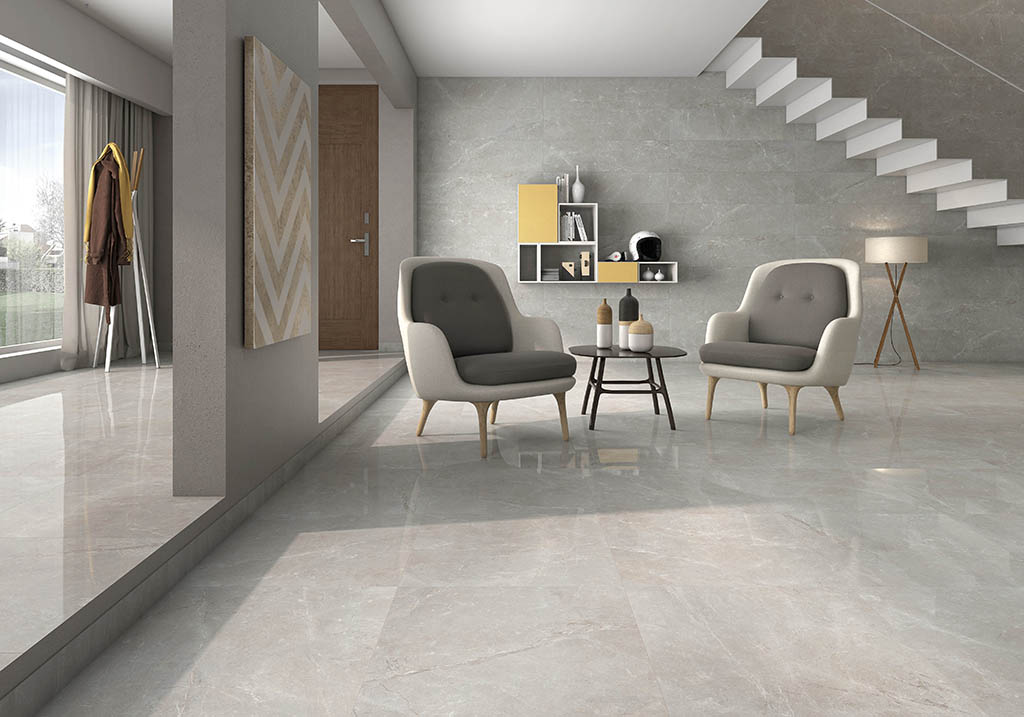 #4. Versatility. As well as faithfully reproducing the charm of marble, these solutions are perfect for both walls and floors. In this room 30×20 centimetre pieces from the Imperium collection are used for the walls in perfect harmony with the 60×60 centimetre format on the floor. These formats are also available in marfil and natural colours, reducing the number of joins and outstanding for the infinite possibilities of combinations they offer.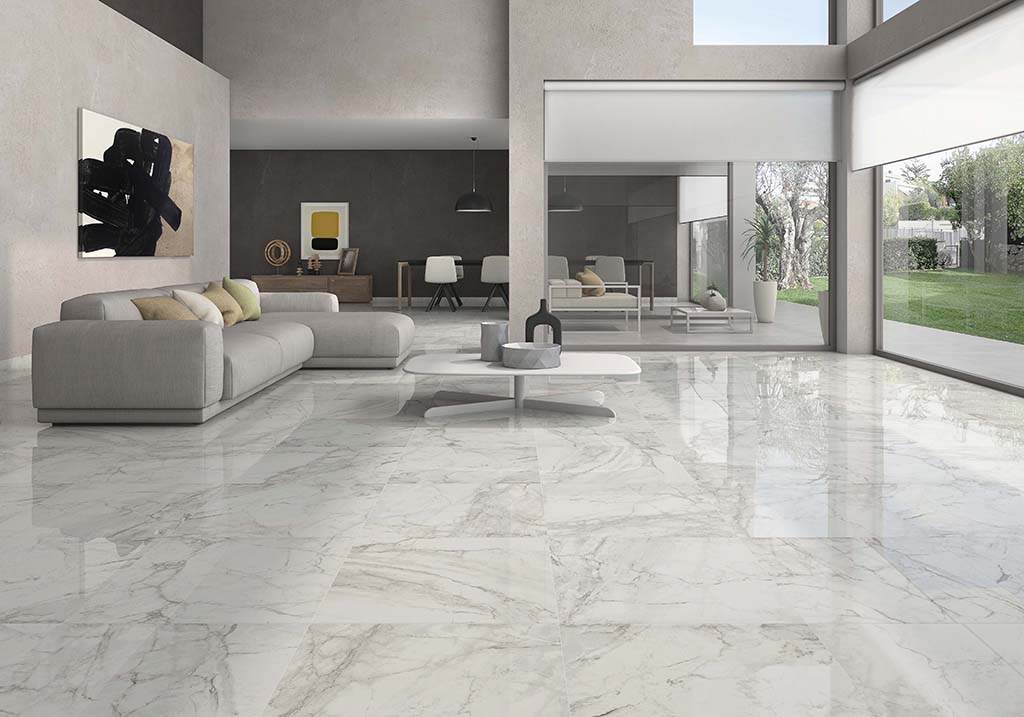 #5. Light reflecting. This timeless material gives a feeling of spaciousness and makes spaces seem lighter. In this living room, the white gloss finish of the 60×60 centimetre floor tile Luni amplifies this visual sensation. And the abundant light of this interior also enhances the delicate features of the marble, adding to the natural feel of this room in which the floor tile captures your attention.