If you are planning to revamp the walls or floor of your bathroom, one subtle way of lending them more character is to use encaustic-effect tiles. Do you want to find out how? Carry on reading.  
What are encaustic-effect floor tiles?
Let's start with the basics. What are encaustic-effect tiles? Originally, encaustic cement tiles were small handcrafted mosaic tiles, made with pigmented cement. Unlike other artisanal tiles, they were not fired but pressed in hydraulic presses. Nowadays, this look can be emulated by firing the tiles, recreating these charming vintage tiles with all the advantages of a ceramic tile body: resistance, hardness, low porosity, an easy-to-clean surface etc.
The main characteristic of these tiles is their wide assortment of designs and colours. There are so many options that it is very easy to combine encaustic-effect tiles with other different design styles, creating bathrooms in looks ranging from rustic to industrial ones.
Which are the best encaustic-effect tiles for bathrooms?
Bathrooms tend to be the living spaces where colours and patterns are put to good use, because they are generally smaller rooms with focal points like the shower or washbasin area, and the colours can be combined with the towels, the bathroom units and the accessories. One of the advantages of encaustic-effect tiles is the fact that they jazz up the bathroom while also guaranteeing the same technical performance as other porcelain floor tiles.  
As we said before, there is a broad spectrum of encaustic-effect tiles to choose from. All Pamesa's 22.3×22.3cm encaustic-effect collections can be found grouped together in our Origin catalogue, with geometrical, floral and abstract designs, among others. All of them come in an extensive choice of colours, one of the main attractions of encaustic-effect tiles. The choice will depend on the design style you opt for. The next question is how to lay them.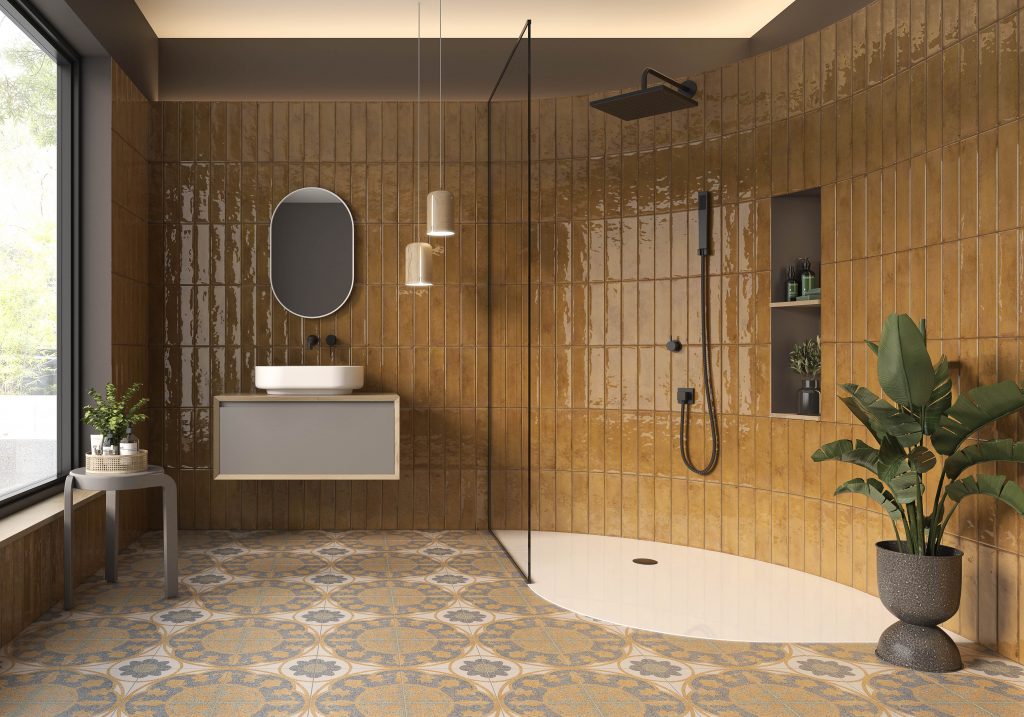 Different ways of using encaustic-effect tiles in bathrooms
If you want your bathroom flooring to be different from that of the rest of the house, encaustic-effect tiles are just what you need to create a highly original, eye-catching floor. But that's not all! These designs can be used in other areas of the bathroom, like the shower area, transforming it into the focal point of your bathroom by adding a touch of colour and movement to this small living space. And, if you are daring enough, you can combine both ideas by continuing the encaustic-cement floor up the wall of your shower.  What a great idea!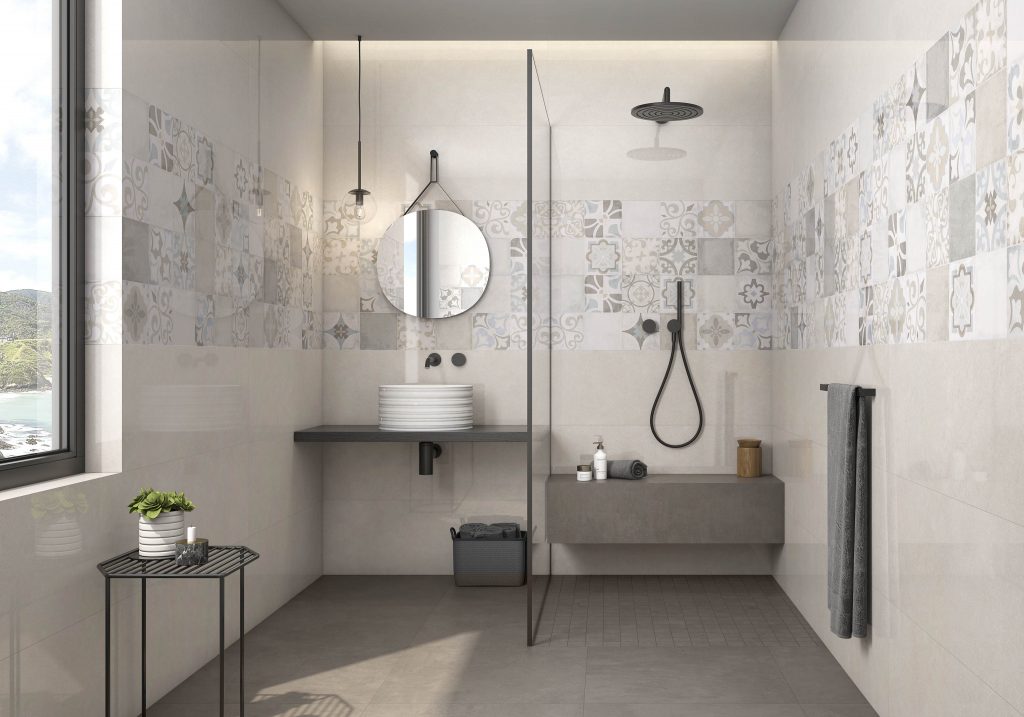 What materials can I combine encaustic-effect tiles with?  
Depending on your personality, you will have opted for a particular design style for your home. It is often thought that encaustic-effect tiles only fit in with vintage looks, but, in reality, the key to successful interior design is the materials you combine them with.
If you want a vintage-look bathroom, you can combine our small encaustic-effect tiles with wood-effect porcelain floor tiles or cement-effect floor tiles so that the main centre of attraction is the pattern of your bathroom's encaustic-effect tiles, whether it is floral, geometrical or abstract.
If, on the other hand, you prefer a more classic bathroom with a modern twist, you can combine marble-effect tiles in any colour with encaustic-effect ones. With this mix, the elegance of marble will be offset by the simplicity of the encaustic-effect tiles.
Lastly, if your home has industrial overtones and you want to stick to the same look in the bathroom, you can combine encaustic-effect tiles in a darker colour with  metal-effect ones.