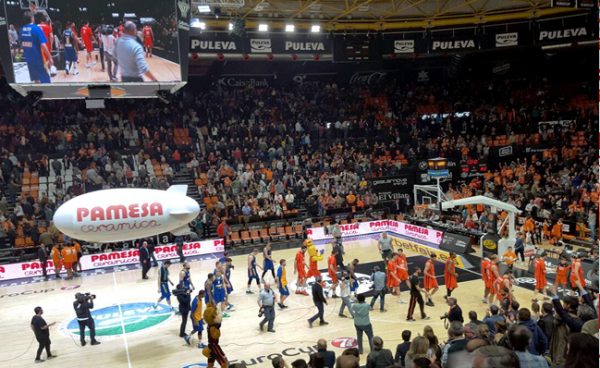 Valencia Basket struggled to secure its first point in the 7DAYS EuroCup quarter-finals, beating Khimki Moscow Region 88-82 in a game they had under control during the first half. A partial 19-2 in the second quarter and plenty of offensive rebounds offset the Taronja team's lack of success and Khimki's reaction in the second part in a match that was decided by a lay-up from San Emeterio and a defence against the final Russian attack. On Friday 3, at 17:30, second game in the qualifying round on the Russian team's home turf.
Pamesa Cerámica, tifo, gifts and zeppelin
A key game in which Pamesa Cerámica showed its support for Valencia Basket by distributing 8,000 orange fans for supporters to wave, creating a huge tifo at the start of the game. The firm gave out backpacks and t-shirts to fans, while an inflated zeppelin hovered over the Fonteta stadium.