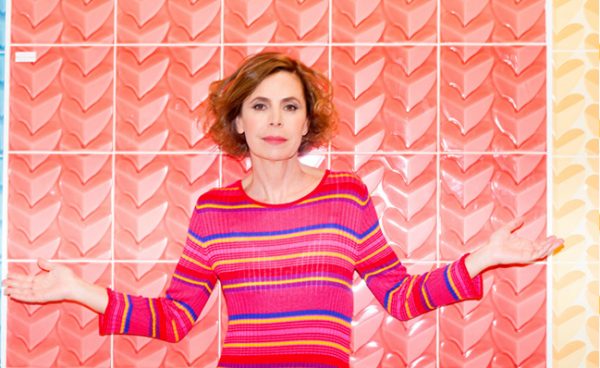 What a triumph! Agatha Ruiz de la Prada visited Pamesa Cerámica's stand last Thursday to present a new collection celebrating two decades of working in close partnership with the firm. Accompanied by Fernando Roig, the Pamesa Industrial Group CEO, and Jorge Bauset, the Group's general director, the prestigious designer welcomed in vibrant colours, original reliefs and expressive shapes, embodied in ceramics and fashioning unique spaces where geometry, volume and colour are enriched with her emblematic designs and motifs.
Agatha saw first-hand the latest technological revolution from Pamesa Cerámica, Pamesa Hololens. This unique pioneering experience in Spain, unveiled at the fair, lets you design and create settings in augmented reality with over 100,000 possible combinations.
Vía Cuore and Vía Agatha are the names of the collection that merges the charm and personality of hydraulics with the joy and energy of Agatha's colour palette. This ode to colour and geometric form in 22.3×22.3 centimetre porcelain gres pieces will transform and enliven any setting. A world of multicolour emotions at our feet for spaces that break away from the routine.
Agatha Coeur and Mille Cuori capture her emblematic icons, transferring their volume to wall tiles. In this profusion of sensory expression through 25×25 centimetre hearts, ceramics embody dynamism and cheer. This explosion of smooth surfaced shapes in white, yellow, orange, carmine, turquoise and pistachio astound with their ingenuity and creativity. A diverse, colourful and unique approach overflowing with energy and optimism.
With this high added value sales tool, you can choose from a broad range of materials and see them in augmented reality, appreciating with your own eyes just what they would look like in every part of your home. Thousands of combinations at the end customer's fingertips.