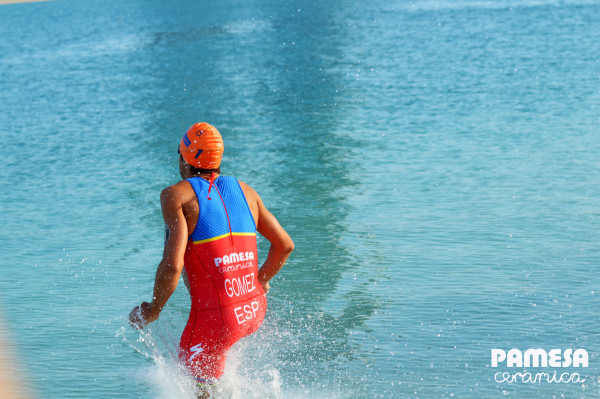 Javier Gómez Noya, world triathlon champion sponsored by Pamesa Cerámica, took part in the World Series in Abu Dhabi on Saturday 7 March. Despite being an unusual result for the world champion, he was not disappointed with his sixth place in the opening event of the World Series, as he knew he was not setting out to compete at his full capacity.
Following various days in bed with flu at the end of February and having abandoned the Middle Distance Triathlon with gluteal pain last Saturday in Dubai, the odds were against him. Another factor to take into account is that during January and February in Fuerteventura he had prioritised quantity over quality in his training programme and for that reason he is still not fast enough to take on the best athletes in the world in such an agonising triathlon that lasts less than an hour. "I am happy of course because I performed better than I expected. The important thing is that I gave my best without any pain and if I couldn't get a better place, that's no reason for me to complain" he said.
The competition is going to be extremely hard since nearly all the best names from last season are among the 65 athletes signed up this year. One exception is the Olympic champion Alistair Brownlee, who withdrew after initial registration, although no official announcement has yet been made as to the reason why. However the number of candidates in line for victory over the sprint distance is greater than for Olympic distances.