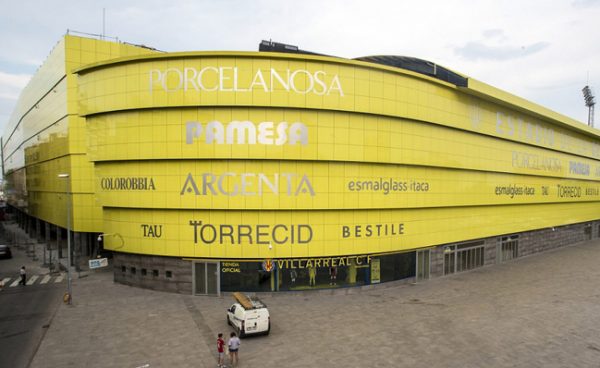 Villarreal CF bagged their first victory of the season in terrific style last Sunday. The Pamesa Cerámica-sponsored team pulled back in an outstanding game by the yellows, beating Real Betis Balompié 3-1.
Sunday's victory coincided with the opening of the stadium's new 'Super Stand'. Both the spectacular facade and the interiors are tiled in Grupo Pamesa materials. On the outside, the gloss 'Villarreal yellow' gleams in harmony with the South Stand facade.
The magnificent construction was also completed in record time: in just a few months the Estadio de la Cerámica now has a sensational new look, both inside and out. This new area is equipped with all the amenities to enjoy the excitement of Villarreal CF matches from a privileged viewpoint over the ground. As well as the comfortable seats and televisions in the outside area, inside the 'Super Stand' fans have access to a catering service and its glass covering lends a new perspective to the football drama.
Remodelling of the Estadio de la Cerámica thus continues after major improvements to the South Stand facade last season. The 'Super Stand' is this season's grand innovation: an exclusive, fully glass-covered area with catering and television and the best possible view of the pitch.
The 'Super Stand' continues in the same image as the South Stand, opened last January: large format yellow ceramic panels enclosing lighting and sound. The stand's new structure does away with the outside access stairs, extending the facade to the edges of the present pavement surrounding the stadium.
The VIP Stand (the size of the interior area has been doubled by building two new tiers), the Casals Grocs (Yellow boxes) and the press area have also been extended. In sum, the stadium has gained in space, in services and in image.