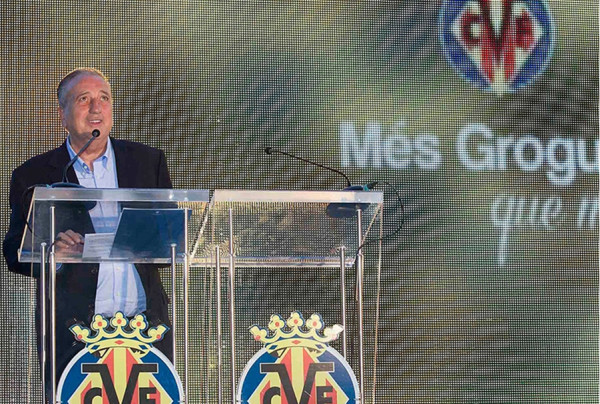 The president Fernando Roig presented yesterday at 'El Madrigal' in front of 2000 people the outlines of the 2014-2015 ticket renewal campaign 'Mes groguet Mai'. The Club keeps its commitment to maintain and even lower the prices of the season tickets-which include Europa League games- and will reward the loyalty of their fans thanks to the new 'Carnet VYP'. It maintains also its strong social commitment through the 'Solidarity Seat' initiative.
In front of more than 2000 yellow fans located in the Grandstand, the presentation took place on the grass of the stadium, which served as the perfect setting for an event full of color and surprises. However, the ceremony began a few hours before in the VIP area of El Madrigal, which opened its gates so that fans could review the history of the Submarine through the exhibit '90 Anys, 90 Imatges'.
The presentation started with short videos of some key moments of this historic season in which the club has gone from playing in second division to qualify for European competitions: a review of 13-14 season, a welcome of the Europa League, the best moments of the Asian tour, and finally a video wishing luck for our players in the World Cup.
During his speech, Villarreal president Fernando Roig introduced the outlines of the campaign ticket renewal campaign, marked by the reasonable prices and even the lowering of the prices. The president also presented the new concepts VYP card (Very Yellow People) and the 'Solidary Seat'. "We want a Madrigal full of 'Yellows' supporting our team and encouraging our players as they have been doing so far. Because the more we are, the stronger we are and thus we will continue to grow. We want to reward those who did not miss one single game, this club must remain an example of supportive fans, "Roig said.
As a ceremony closing, the 'Sambalea Vila-real' offered a performance full of color and rhythm with over fifteen musicians on stage that brought the perfect final touch to the Gala.