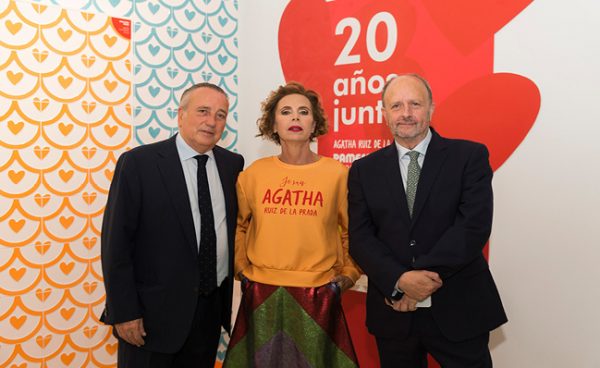 The opening day of Cersaie 2017 at the Pamesa Cerámica stand was marked by an exclusive visit from prestigious designer Agatha Ruiz de la Prada, who came to see the firm's exhibition area in this ceramic sector fair par excellence, held in the Italian city of Bologna until Friday. Two great names in design, united this year in their celebration of a two-decade working partnership, have unveiled new ground-breaking collections that break all moulds.
Accompanied by Fernando Roig, the Pamesa Industrial Group CEO, and the firm's general director, Jorge Bauset, Agatha raised great expectation among visitors to the stand.
She discovered the innovations in wall and floor ceramic tiles and explored the 'Pamesa by Agatha' section, where pride of place goes to vibrant colours, original reliefs and expressive shapes embodied in ceramics. Vía Cuore and Vía Agatha are the names of the collection that blends the charm and personality of encaustic tiles with the joy and energy of Agatha's colour palette. Agatha Coeur and Mille Cuori capture her emblematic icons, transferring their volume to wall tiles.