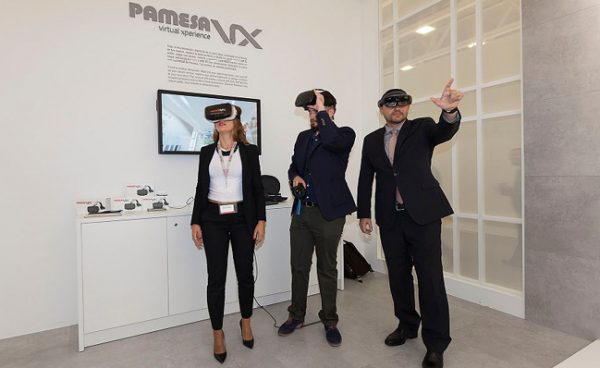 The technological revolution came to Pamesa's stand with the firm's Pamesa Virtual Xperience (VX) project, part of the work carried out under the Pamesa–Polytechnic University of Valencia academic chair.
The firm presented its HTC Vive headset and controllers at Cersaie, marking a before and after in the realm of virtual reality by enabling the user to move around and follow the real scenario with their hands. In this limitless full immersion experience, visitors can physically move around a ceramoteque, change the ceramic tiles and lighting in the simulated setting, and visualise 3D environments in 360° experiences.
In a similar line, the Pamesa–Hololens glasses are an invaluable tool for designing and creating settings in augmented reality, offering over 100,000 possible combinations. Making the purchasing experience more visual, modern and immediate, the firm's interactive 360° video can be watched on any device through cardboard glasses. The videowall touch, a new way of displaying Pamesa's collections on high-resolution screens, also brings the experience closer to the customer.
This technological initiative has great added value, enabling customers to select a range of products and see them in augmented reality, providing a realistic picture of the final effect they would achieve in any part of their home: millions of combinations at the end customer's fingertips.