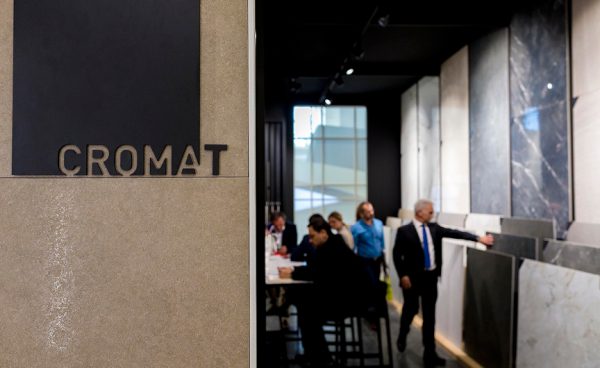 The colourful palette of the landscape. The sound of water. The texture of stones. Nature seduces, inspires and evolves. A never-ending source of inspiration, Pamesa Cerámica's new creations at Cersaie 2018 draw inspired by the beauty of the natural environment to create multi-faceted innovative collections. Cromat as an extension of nature, constantly transforming. A project that grows and develops, just as we grow and mature throughout our lives. And because we evolve as our experiences shape us, there is a different Cromat for every moment in our lives.
Pamesa adds eight new series to this evolving multi-format collection in porcelain gres, which is presenting from yesterday until 28 September at the Cersaie trade fair in Bologna, Italy.
The essence of natural stone takes centre stage in Cr Amarna, a series that highlights the exceptional qualities of mother-of-pearl and alabaster, showcasing their exceptional patterns and characteristic elegance. From the shores of Italy's Lake Iseo, Cr Gransasso reproduces the majesty of Ceppo di Gré, a sedimentary rock known for its large incrusted pebbles often seen in Italian buildings, and available in black and white with a matte finish. Italian architecture is also the inspiration behind Cr Ceppo, radiant and with an inherent light, which faithfully conveys the sheen of its neutral colour range.
Cr Ascolano comes to ceramics from Tuscany, an exceptional contemporary version of the refined, discreet marble Fior di Bosco. The same exquisite material, but this time the magnificent arabesque marble, is the inspiration for Cr Niro, a series with deep, intense veins standing out on a crystalline white background. The Cr Manaos series references the exclusivity of Brazilian granite, conjuring up the charm of its imposing surfaces for a life in harmony with nature.
Slate textures are emulated in Cr Ardesia, offering a range of colours from warm Welsh tones to the cooler, neutral German shades, the origin of the black slate in this series.
A living collection, Cromat is constantly growing to create environments that personify well being with pieces in 90×180, 120×120, 60×120 and 75×75 centimetre formats, in addition to the large formats already available, making it an ideal solution for both domestic and large projects. Technology from Pamesa serving architecture: porcelain gres surfaces designed to stand the test of time.
When less is more
Tranquillity and balanced colours are at the heart of the Eden collection, which Pamesa has enriched with new references for both walls (40×120 centimetres) and floors (75×75 centimetres). Elegant solutions in white body ceramic tile that combine perfectly with relief surfaces, harmonising its colours with predominantly ivory and ash base tones.
And finally, new porcelain gres series enhance the Essential collection with a contemporary touch in natural stone textures, the unique features of rosewood, and distinctive cement-like surfaces, all in 120×120 and 60×120 centimetre formats.
A wide range of possibilities for you to discover at Pamesa's exhibition area in Cersaie, located in hall 14, stand B19-C20 at Bologna Fiere.