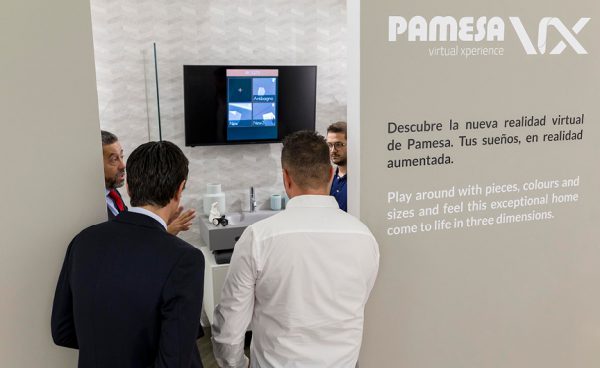 The setting of the international trade fair Cersaie 2018 provides the backdrop for Pamesa Cerámica's latest step forward in its ambitious virtual reality project for producers, architects, interior designers and furniture sector professionals.
At the fair, held in the Italian city of Bologna this week, the ceramic firm has presented a brand new development in the tile sector, destined to become a vital tool in the promotion and sales of its most innovative lines, as part of its pioneering project Pamesa Virtual Xperience, undertaken in collaboration with the Polytechnic University of Valencia.
AmbiensVR, a leading Italian start-up in software development for the creation of interactive solutions in virtual and augmented reality, is the firm Pamesa selected to develop this new tool. The ongoing project with AmbiensVR, known as Cromat, has added a multiplatform application to its toolkit.
The Cromat app can be used on smartphones and tablets, and combines virtual and augmented reality techniques, enabling users to measure real spaces and create a 3D model that can be customised and visualised virtually, all in real time, on a mobile device (Android and iOS).
The products Pamesa Cerámica has chosen for the first phase of this project come from Cromat, a collection in porcelain gres that adapts natural colours to any environment, representing the fusion of nature's best with the finest designs from today's professionals.
With AmbiensVR technology, the firm showcases the quality, design and versatility of Cromat, allowing users to see the infinite range of combinations that can be applied in any setting, the first step towards preparing an estimate and carrying out the final project. A commercial and technical tool for professional clients that will bring Pamesa Cerámica's product range closer to new types of customers and designers who are already receptive to using VR techniques to improve their work flow.