Wood is a warm, welcoming and comfortable material, but one that requires special care and attention to protect it from scratches, knocks and general wear and tear. Today, thanks to the latest ceramic tile manufacturing methods, we can enjoy all the benefits of wood as well as the excellent technical features of porcelain tiles, such as their inalterability over time, resistance to adverse conditions and a wide range of finishes and colours.
Wood-effect porcelain tiles: factors for consideration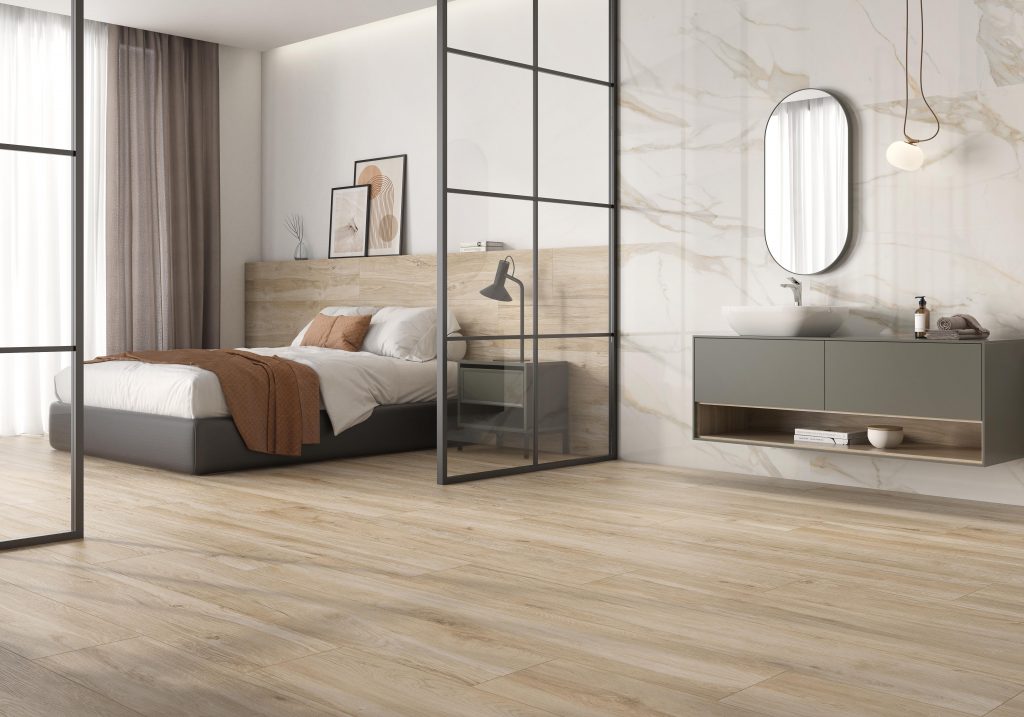 The first thing to remember is that whatever floor tile effect we choose, it will accompany us for many years in our new home, and it is therefore essential to take the time to learn about the details of each model.
This blog post gives you an insight into all the key aspects for consideration when choosing a wood-effect porcelain tile.
Format. Pamesa's catalogues feature a wide range of products, from small 8×40 cm strip tiles that imitate the classic natural chevron pattern to large 30×180 cm tiles, designed with larger spaces in mind. The visual effect created by the chosen format is a vital aspect.
For smaller spaces, we should opt for standard formats such as 22x85 or 20×120, etc.
As for larger areas, the use of large format tiles such as 25×150 or 30×180 is an excellent solution.
Laying area. This is another factor that will determine our choice of model. As we have discussed in previous posts, there are anti-slip tiles suitable for outdoor flooring which are highly recommendable for swimming pool surrounds and terraces, as they comply with UNE 41901 EX standards. When it comes to interiors, there is no need to use a Class 3 tile; Class 1 options are sufficient.
Style and design. When choosing a wood-effect porcelain floor tile, a key feature is that the model reflects the natural appearance of wood and should look identical. A realistic finish depends on the texture, knots and ridges, etc. Cutting-edge advances in glazing and other effects are now so sophisticated that they can reproduce these natural aspects of wood on tiles right down to the smallest detail.
The colours of wood-effect porcelain floor tiles
The colours most frequently featured in ceramic tile catalogues are grey, oak, honey and white tones.
Grey-tone wood effects. This is a versatile colour, great for mixing and matching and is a fabulous background tone for highlighting other decorative elements. Add a touch of elegance and sophistication by combining it with cement-effect ceramic tiles or marble-effect ceramic tiles. Our range of models in this colour include At. Viggo, K.Wood, or Sonoma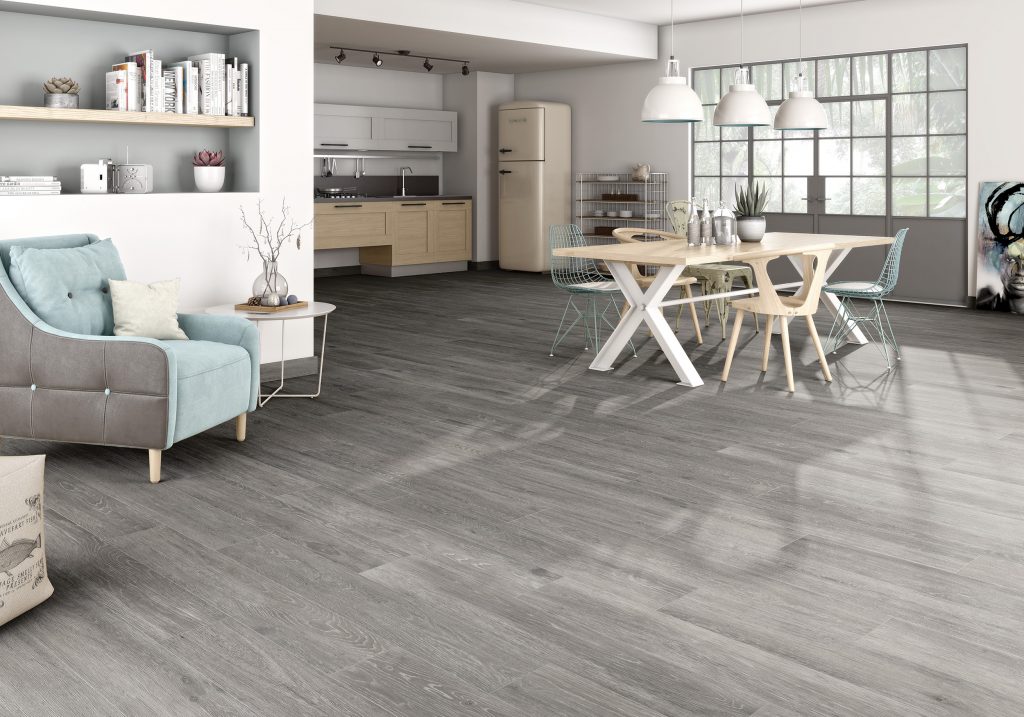 Honey-tone wood effects. A colour that never goes out of fashion, capable of adding subtle warmth to any setting and creating a sense of comfort that adapts to all decorative styles. Highlights of our models in this colour include Rovere and Oldmanor.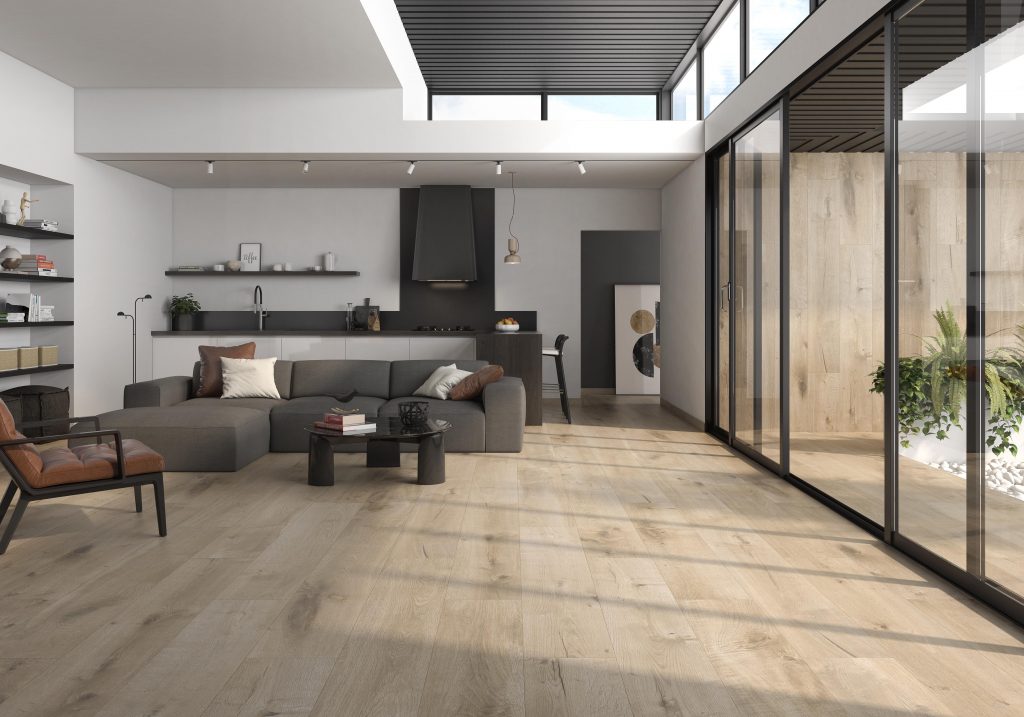 Oak-tone wood effects. A classic tone, yet one which is always popular. A colour that blends in with all decorative styles, adding a sense of harmony and creating warm and welcoming spaces. At. Viggoand Boreal are our hallmark series in this tone.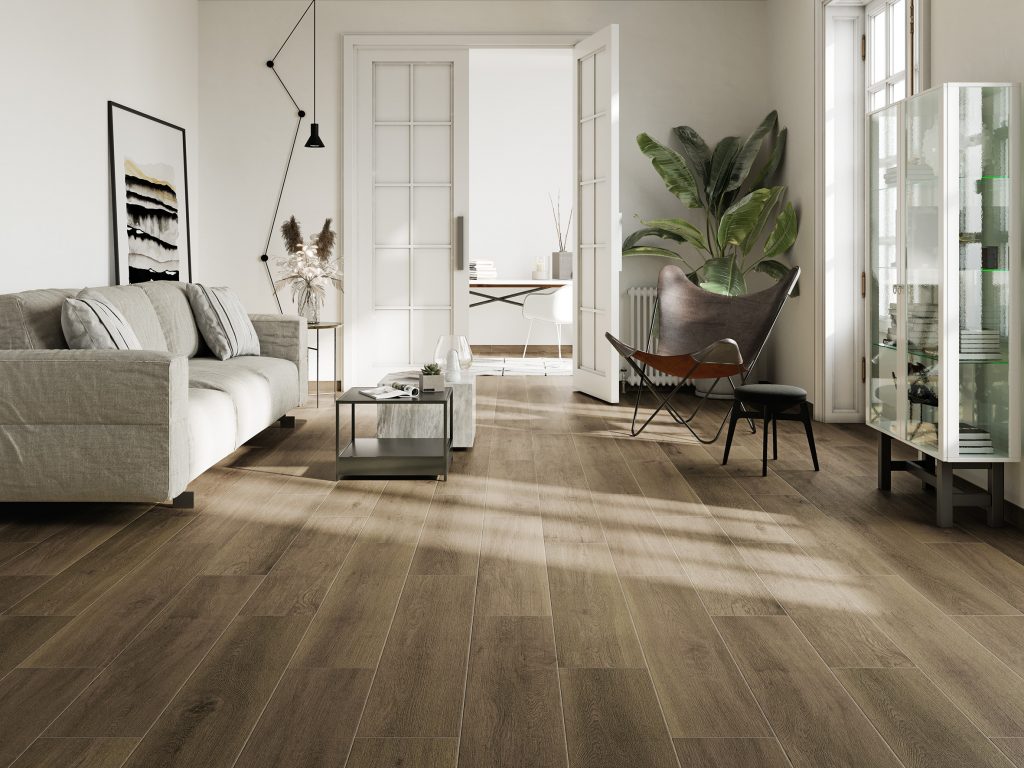 White-tone wood effects. A choice guaranteed to generate sensations of space, light, comfort and warmth. Stripped-effect floor tiles for a used look are now a popular trend, especially in rustic-style settings. A fine example is the 20×120 At. Cottage Antic Nature porcelain tile from our Atriumcatalogue.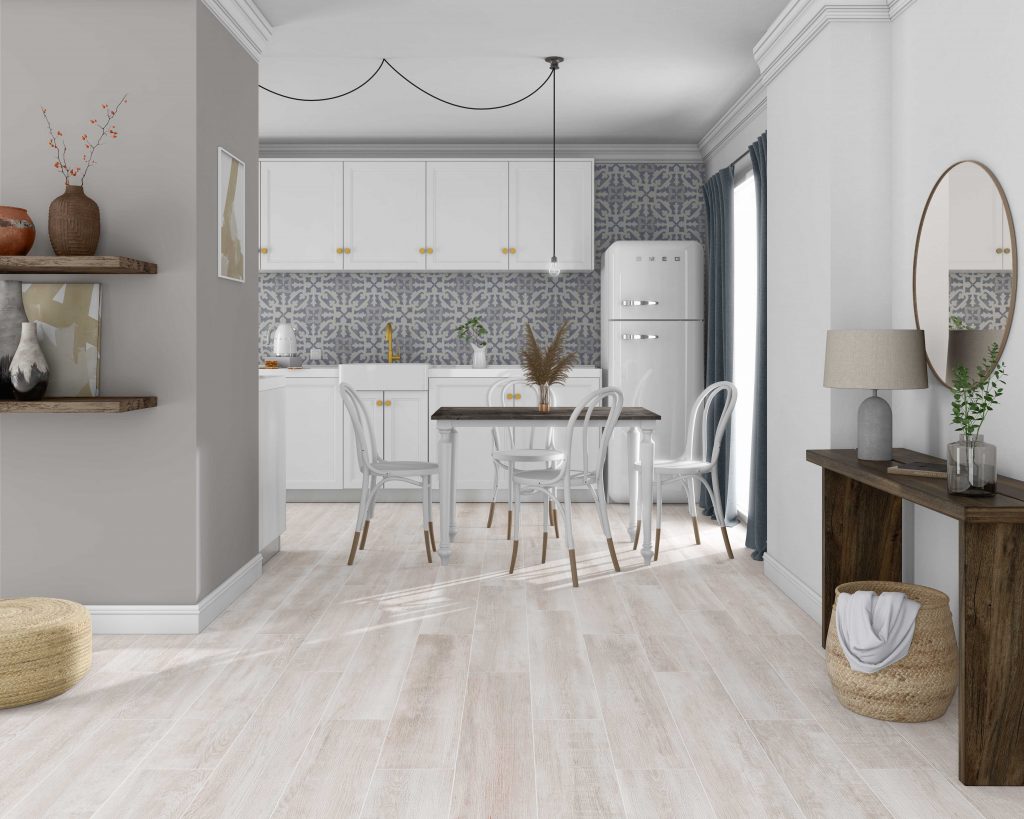 Ways of laying wood-effect porcelain floor tiles  
Finally, there are two aspects for consideration when laying our new porcelain tiles.
Layout patterns. The most common format is in a 1/3 staggered or irregular pattern that will add movement to your space. They can also be laid in traditional style, taking the longest wall in the room as a reference, as the tiles should be laid parallel to it. A more original format is a herringbone pattern, which looks especially striking when created using smaller 8×44 or 15×90 strip tiles.
Grouting. The joints should always be between 1.5 and 3 mm. If the idea is to create a parquet flooring effect, then the best option is to use a grouting colour as similar as possible to the tone of the wood-effect tiles.