The solidarity project United by Hope celebrates its main activity with a charity match between the Submarine and Celtic FC today at 8.45 pm in El Madrigal stadium.
Pamesa Cerámica supports this campaign, which has been promoted by the Celtic Submarí supporters group on their 10th anniversary. The Project has the goal of collecting the financial resources to launch a specific research in La Fe Hospital of Valencia, along with ASPANION, that will help improve the life quality of the kids that overcome cancer and avoid the possible sterility caused by the strong medical treatments.All the money that is raised during the match will go to the funding of the charity project.
Buy your ticket, we all win!
The tickets cost 5 euros in the Goals, 10 euros in the West Stand and 15 euros in the Grand stand. They can be bought in the following sale points:
Official shop @ El Madrigal: Monday to Friday 10 to 1.30 pm and 5 to 8 pm; Saturdays from 10 to 1.30 pm.
Villarreal CF Travel Agency (Plaça de la Vila, 3): Monday to Friday 10 to 1.30 pm and 4.30 to 8 pm; Saturdays from 10 to 1 pm..
El Madrigal Ticket offices: During the previous moments of the Europa League match against FC Astana and Liga BBVA match against FC Barcelona.
If you can't come, collaborate with the project
Villarreal CF and the "Celtic Submarí" supporters have decided to launch a Fundraiser for those who can't attend the match.
Bank account of the Fundraiser:
La Caixa
IBAN: ES51 2100 8621 1302 0006 2122
BIC/SWIFT: CAIXESBBXXX
In addition, they have launched an official website where everybody can make a donation. Fans can choose if they donate the amount they prefer or closed amounts of 5, 20 or 100 euros here: http://villarrealcf.es/unidosporlaesperanza
The Trinidad Alfonso Foundation supports the project
The Trinidad Alfonso Foundation joins the project 'United by Hope' with an original initiative: a group of young fans will trow a series of penalties and for every goal scored the Trinidad Alfonso Foundation will donate 1,000 euros for the initiative.
The dream of Gohan: football player for a day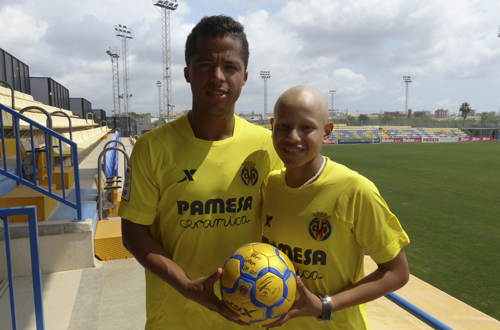 One of the children of  Aspanion –The Valencian Region Association of Parents of Kids with Cancer-, Gohan, will be football player for a day in the charity match. The 13-year-old child will put himself in the footballer's shoes and will be one more of the Yellow team.
Esta entrada también está disponible en: Spanish