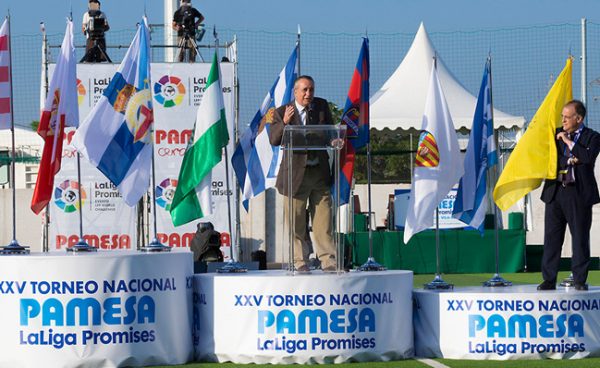 Exciting and spectacular. The Opening Ceremony for the XXV National PAMESA LaLiga Promises tournament took place this afternoon at the PAMESA Cerámica Training Ground (Ciutat Esportiva PAMESA Cerámica) where around a three thousand people enjoyed the spectacle. The magic of the Xarxa Theatre Company stole the show, delighting the audience with stellar performances and a spectacular fireworks show to finish.
The Opening Cermeony was presented by journalists Aitor Gómez and Eduardo Pidal and Villarreal CF President, Fernando Roig, and LaLiga President, Javier Tebas, gave speeches.
Straight after the Opening Ceremony the All Stars match was played at the PAMESA Cerámica Training Ground, in which two teams, one captained by Raúl González, Fernando Morientes and Julen Guerrero, and the other by Carles Puyol, Marcos Senna and Gica Craioveanu, delighted fans in what was a fun and festive atmosphere.