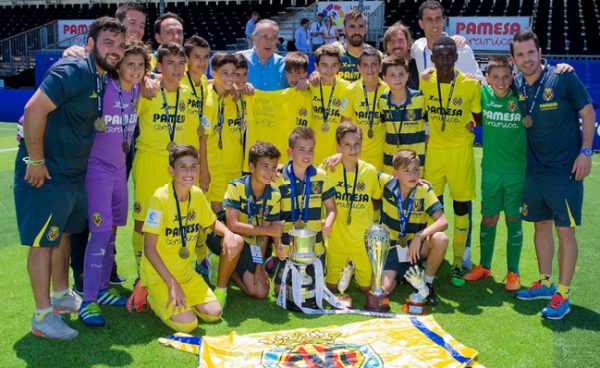 The best in Spain! Villarreal U12s were crowned champions of the XXV National PAMESA LaLiga Promises tournament after winning the grand Final of the prestigious tournament by 1-3 against Atlético de Madrid. The Yellows went ahead after a brilliant right footed strike by Paco from the top of the box. Then, at the start of the second half Atlético de Madrid even things up with a goal from Alejandro.
Villarreal U12s went forward in search of another goal that would give them the victory and their bravery was rewarded. Daniel stayed cool and calm as he controlled and slotted the ball home in the area, making it 1-2 to the Yellows. In the last few minutes the Submarine finished the job with Paco scoring again, this time from a powerfully placed free kick.
Today was only the second time Villarreal U12s have won the prestigious tournament, the last time in 2007.
Crushing victory against Real Madrid in the Semi-finals (4-0)
To get to the grand Final, Villarreal U12s has to overcome Real Madrid in the Semi-finals of the competition. The Yellows shone against the Madrid side, putting in a very strong performance to win 4-0, with goals from Mario, Adrián, Aarón and Daniel.