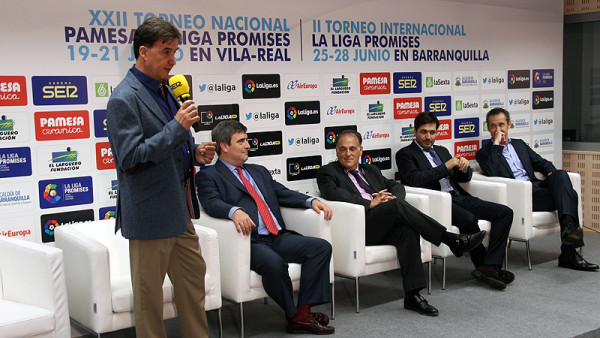 The Cadena Ser radio headquarters in Madrid hosted the presentation of the National Pamesa 'Promises League' Tournament yesterday, which will be held from 18 to 21 June in the Villarreal CF training facilities. Pamesa Cerámica sponsors this competition which the chief executive officer of the Submarine, Fernando Roig Negueroles, officially presented yesterday.
This tournament, which has become genuine classic in national junior football, will bring together the junior players of the first division teams (with the exception of Athletic, which is replaced by Betis).
The Yellow's manager was accompanied in the presentation by José Ramón de la Morena, journalist and president of the El Larguero Foundation; president of the professional football league, Javier Tebas; president of the Sports Council of Madrid (CSD), Miguel Cardenal; and the ex-footballer and contributor to the El Larguero sports programme, Jorge Valdano.
The tournament will open on Thursday 18 June in the Miralcamp installations, where the first matches will be played the following morning. The final of the competition will take place on 21 June.
In addition, one day after, on Monday 22, six of the participating teams are due to depart for Colombia to play the second edition of the International 'Promises League' Tournament. Villarreal CF, Barcelona, Real Madrid, Atlético de Madrid, Valencia CF and Sevilla FC will represent Spanish football in this competition.