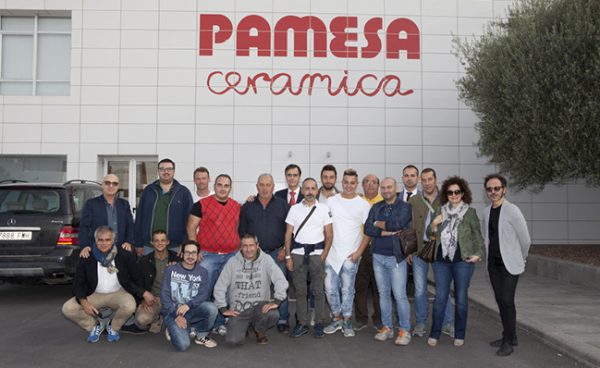 Pamesa Cerámica has hosted a visit from group of Italian architects at its factory in Almazora yesterday. Some twenty architecture and interior design professionals made the trip to discover first-hand the firm's latest floor and wall tile innovations.
Accompanied by Claudio Giannotti, who is responsible for Pamesa's sales in Italy, and the Italian firm Ime, the architects explored Pamesa's showroom, with its numerous settings, product displays and work areas designed for developing all manner of projects. They were shown the most innovative ideas in ceramics, such as Koncept, Eden and Tiles for You, which the firm recently presented at the Cersaie trade fair.
During their visit the professionals also had the chance to experiment with Pamesa Virtual Xperience, a tool that gives the customer a visual, modern and immediate experience. Pamesa VX is an interactive 360° video that, by looking through cardboard glasses, can be watched on any device (computer, tablet or mobile phone); this immersive cube shows the viewer a range of life-size virtual reality settings, and together with videowall touch, is an innovative way of displaying collections on high-resolution screens.