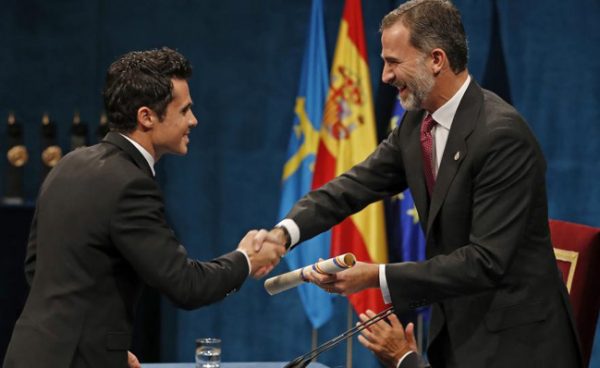 The triathlete sponsored by Pamesa Cerámica received the 2016 National Princess of Asturias Award for Sports from King Felipe VI on Friday afternoon. In a ceremony held in Oviedo's Campoamor Theatre, in the presence of Queen Letizia, Javier Gómez Noya  received this accolade for his "brilliant, incontestable track record".
Gómez Noya was chosen as this year's winner in recognition of his efforts and perseverance in the face of adversity throughout his career, in which he has shown "enormous fortitude and commendable spirit of self-improvement". Now a triathlon legend, he is the first athlete to win five world titles, as well as a silver Olympic medal. Perseverance, a profession attitude and hard work have earned him this award.
Awards were also received by actor Nuria Espert (The Arts), photographer James Nachtwey (Communication and Humanities), historian Mary Beard (Social Sciences), engineer Hugh Herr (Technical and Scientific Research) and writer Richard Ford (Literature).